CAMPGROUNDS



For our RVing friends we thought we would put in pictures of the Campgrounds that we have stayed in during our travels this summer. Also we will make some comments about our impressions of them where appropriate and indicate whether we were able to use our satellite internet and TV. We also indicate if they have wireless internet (WiFi) or high speed internet hookups (DSL or Cable).

SI = Satellite Internet (Direcway/Hughesnet)
ST = Satellite TV (Dish Network)
WiFi = Wireless Internet
HI = High speed Internet (DSL or Cable via CAT5 cable)
s = Selected Sites - only some sites have a view of the satellites or can connect to the wireless signal

---
ALASKA

ANCHORAGE - Anchorage RV Park
FAIRBANKS - Chena Marina RV Park
HAINES - Hitch-Up RV Park
HOMER - Oceanview RV Park
KENAI - Beluga Lookout Lodge & RV Park
SEWARD - Stony Creek RV Park
TOK - Tok RV Village

---
ARIZONA

LAKE POWELL - Wahweap Campground

---
BRITISH COLOMBIA

ATLIN - Norseman Adventures RV Park
CACHE CREEK - Brookside Campsite
DAWSON CREEK - Northern Lights RV Park
FORT NELSON - Westend RV Park
GOLDEN - Degagne Trailer Court & RV Park
HOPE - Hope Valley Campground
KELOWNA - Holiday Park Resort
LAC LA HACHE - Fir Crest Resort
MUNCHO LAKE - J&H Wilderness RV Park
OLIVER - Desert Gem RV Resort
PRINCE GEORGE - Southpark RV Park
QUESNEL - Robert's Roost RV Park
VALEMOUNT - Irvin's RV Park

---
CALIFORNIA
---
COLORADO

CREEDE - Mountain Views at Riversedge RV Park
FORT COLLINS - Lakeside KOA (formerly Heron Lake RV Park)

---
IDAHO

BONNERS FERRY / MOYIE SPRINGS - Twin Rivers Canyon Resort
DECLO - Village of the Trees
HOPE - Beyond Hope Resort
ISLAND PARK - Red Rock RV and Camping Park
MC CALL - McCall RV Resort
SALMON - Salmon Meadows RV Park

---
MONTANA

BIG TIMBER - Spring Creek Campground
GREAT FALLS - Dick's RV Park
HAMILTON - Black Rabbit RV Park
HARDIN - Hardin KOA
HEBGEN LAKE - Yellowstone Holiday RV
St. REGIS - Nugget RV Resort

---
NORTH DAKOTA
---
OREGON

BAKER CITY - Mountain View Holiday Trav-L-Park
BROOKINGS - Portside RV Park
BURNS - Burns RV
CANNON BEACH - RV Resort at Cannon Beach
McMINNVILLE - Olde Stone Village
TUALATIN - Roamer's Rest RV Park
WINCHESTER BAY - Marina RV Resort

---
SOUTH DAKOTA

PORT PIERRE - OAHE Downstream Recreation Area
HILL CITY - Rafter-J-Bar Ranch

---
UTAH

DUTCH JOHN - Dutch John RV Park

---
WASHINGTON

ANACORTES - Fidalgo Bay Resort
ELLENSBURG - Ellensburg KOA
FERNDALE - The Cedars RV Resort
MONITOR - Wenatchee River County Park
OROVILLE - Oro Beach RV Resort
SEQUIM - Gilgal Oasis RV Park
YAKIMA - Trailer Inns RV Park

---
WYOMING

CODY - Absaroka RV Park
LANDER - Sleeping Bear RV Park & Campground
SUNDANCE - Mountain View Campground

---
YUKON TERRITORY

HAINES JUNCTION - Kluane RV Park
WATSON LAKE - Downtown RV Park
WATSON LAKE - Baby Nugget RV Park
WHITEHORSE - Pioneer RV Park

---
ALASKA
---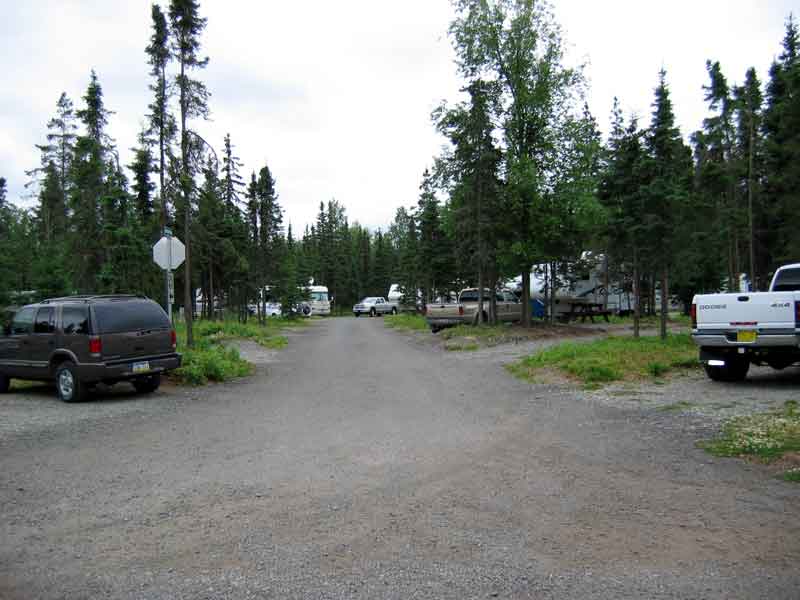 ANCHORAGE, AK



Anchorage RV Park (2004)
STs, WIs, some sites with phone hookups

Good access and large sites with good surroundings. Also nice people and facilities at the office. Modem hookups in the office and WiFi for sites near the office. We were in site 62 and could get WiFi there.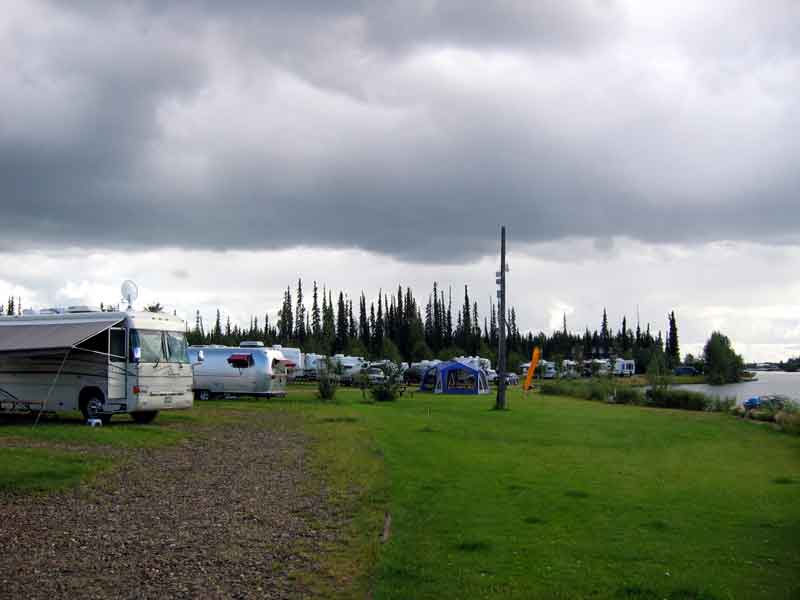 FAIRBANKS, AK



Chena Marina RV Park (2004)
ST, WiFi, some sites with phone hookups

We really like this park. It is situated on a float plane pond where you can watch the takeoffs and landings. No night flights so noise is not a problem. Sites are large enough for a big rig and access is good. WiFi is available for $3/day when we were there.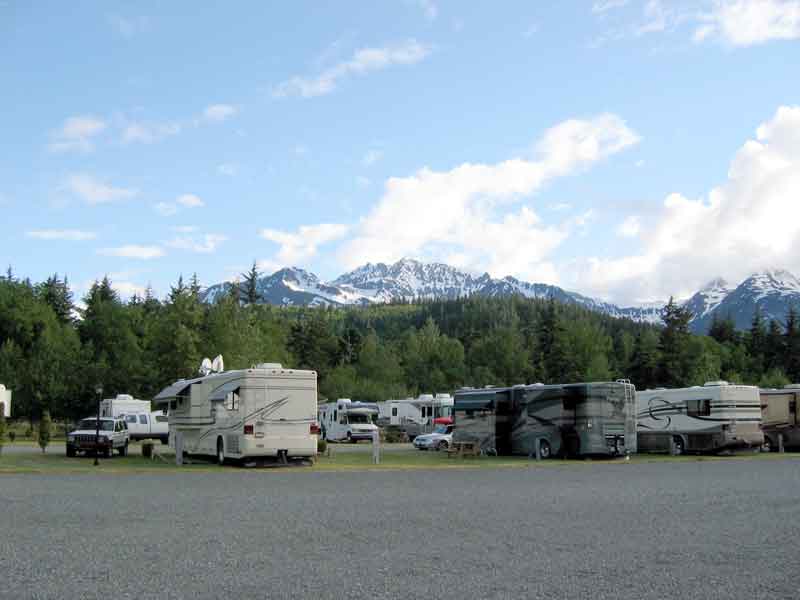 HAINES, AK



Hitch-Up RV Park (2004)
SIs, STs, WIs

The folks here are really nice as is the campground. Easy access for big rigs and large grass sites. If you like, it is an easy walk into town to get something to eat or just for the exercise.


HOMER, AK



Oceanview RV Park (2004)
HI (9am-9pm)

Beautiful views from selected sites but small sites and difficult for large motorhomes to maneuver. We were in site #64/43 which is an end site with fantastic views.

The Heritage RV Park on the spit would probably be better overall, with many ocean front sites, and good access for large rigs.


KENAI, AK



Beluga Lookout Lodge & RV Park (2004)


Sites are very narrow and close together. Could not put out our large awning. Ok views if you can get on the row overlooking the bluff.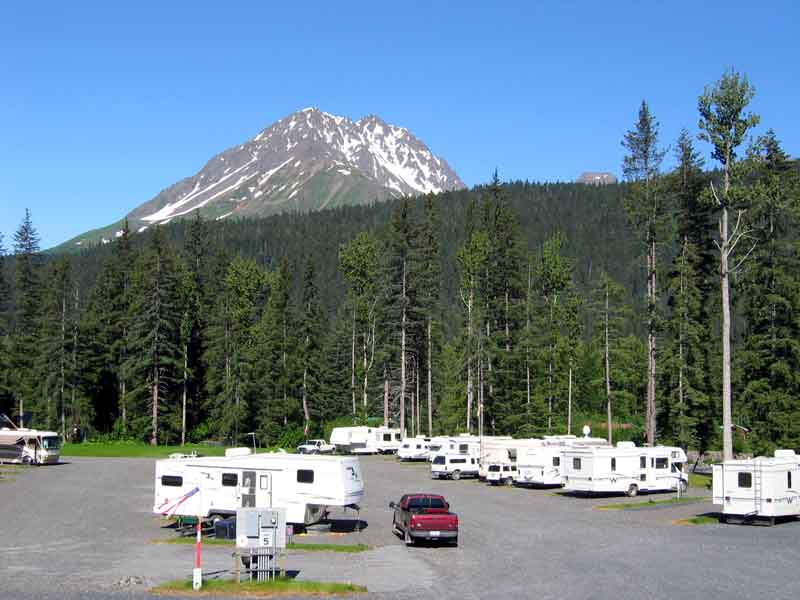 SEWARD, AK



Stony Creek RV Park (2004)
STs

Nicest campground around Seward. The creekside sites are the best, with a grassy knoll and trees between the sites and the creek.


TOK, AK



Tok RV Village (2004)
WIs

This campground seems like the crossroads of Alaska since you have to go through Tok to get in or out of the state. It has medium wide sites that are long enough for a motorhome + towed to fit without having to disconnect. People are friendly and they have entertainment each evening.

---
ARIZONA
---
LAKE POWELL, AZ



Wahweap Campground (2007)
SI, ST

A great place to camp. The sites are organized in a series of loops that are terraced so all the sites have a good view of the lake. The sites are either side loop pull throughs or back ins and all have plenty of space. The best views are from the sites that are on the part of the loop closest to the lake; that way your awning faces the lake.

---
BRITISH COLUMBIA
---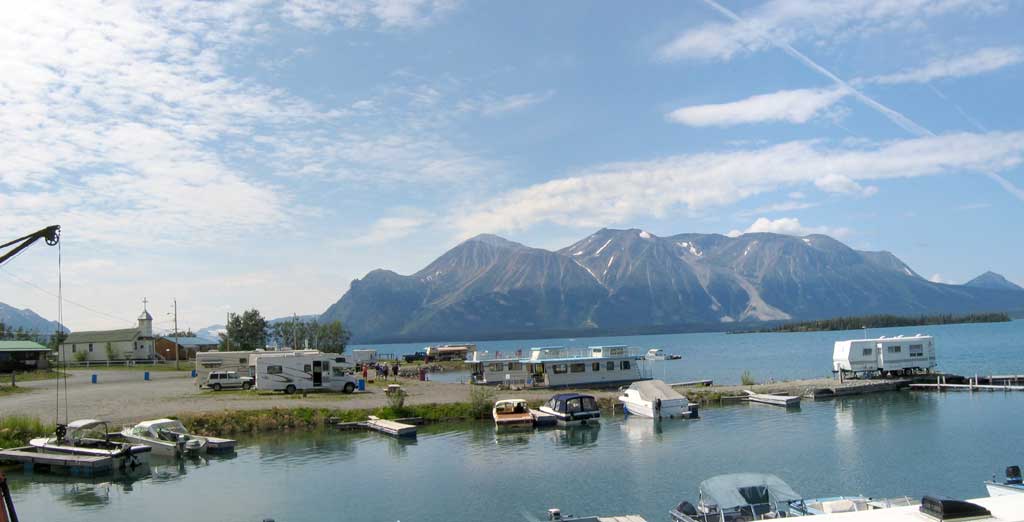 ATLIN, BC



Norseman Adventures RV Park (2004)
SI, ST

This is a great little park on the shore of Atlin lake in BC. It has 20 sites, some with 30 amp power, others with 15 amp. No sewer facilities are available. All with water. There is a dump station 2.5 miles from town. As you can see from the picture, all the sites are on the water with fantastic views. The owners are great people, very friendly and helpful.

This campground is not listed in the TL Directory but is described in the Milepost.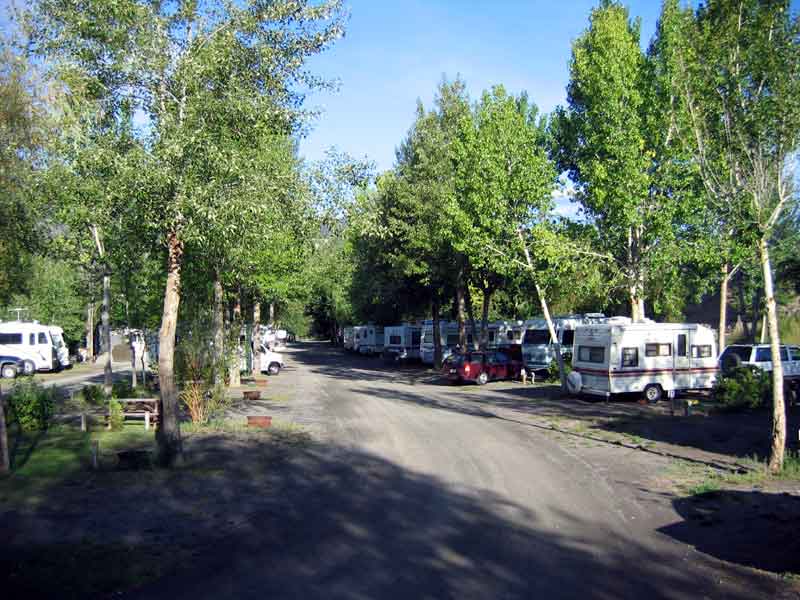 CACHE CREEK, BC



Brookside Campsite (2004)
SIs, STs

An excellent overnight with medium wide sites. Nice folks. Would be good for a several day stay if you had something to do in Cache Creek.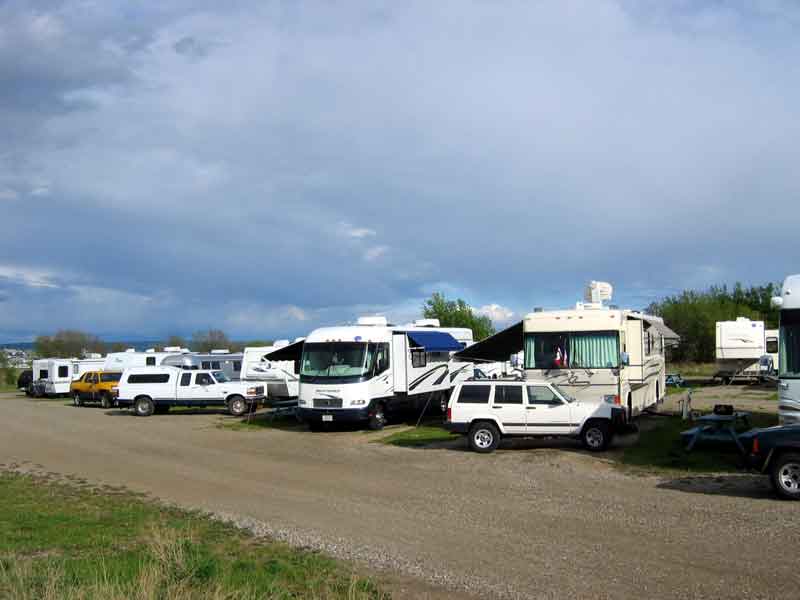 DAWSON CREEK, BC



Northern Lights RV Park (2004)
SI, ST(marginal)

A good place to stock up and get ready for the haul up the ALCAN.


FORT NELSON, BC



Westend RV Park (2004)


This park has both shaded and open sites and appears to be primarily an overnight stop. Also has an RV power wash.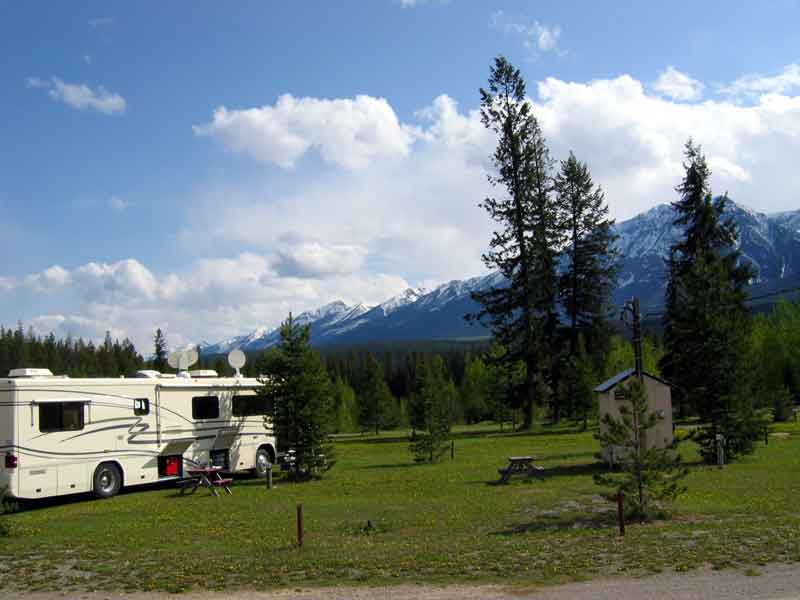 GOLDEN, BC



Degagne Trailer Court & RV Park (2004)
SI, ST
This is about 15 miles west of Golden on TCH 1. It is set back from the highway and is very quiet and the views are great.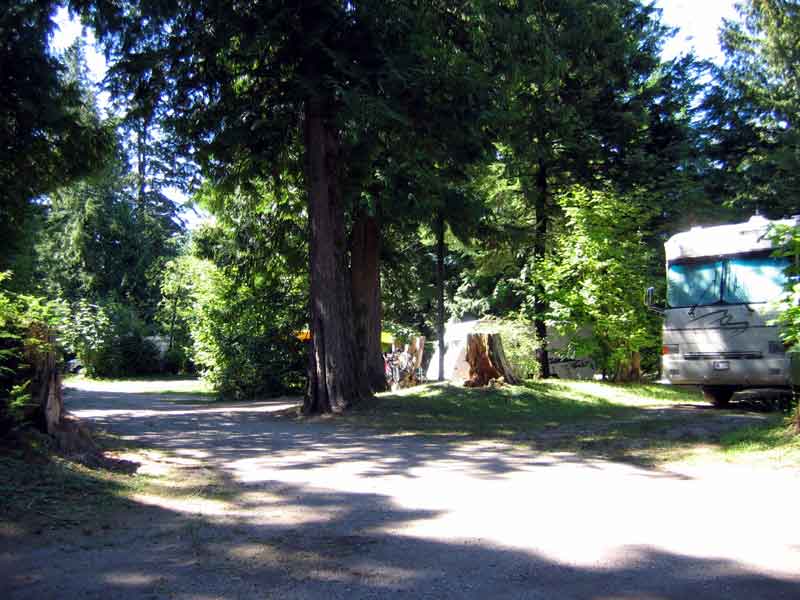 HOPE, BC



Hope Valley Campground (2004)


Heavily wooded with nice campsites and good separation via the trees. Too many trees for us, since we were not able to get a view of the satellites for either internet or TV. Also rather noisy since it is located between a very active railroad and the expressway. Another problem is that the dump station is in the middle of the entrance / exit and if someone is using it you have to wait to get in or out.

This park has a major problem with power. Every afternoon and evening we had a lot of problems with brown outs numbering in the teens. The voltage dropped so much that even our booster could not keep the voltage up and our power monitor would periodically shut us down.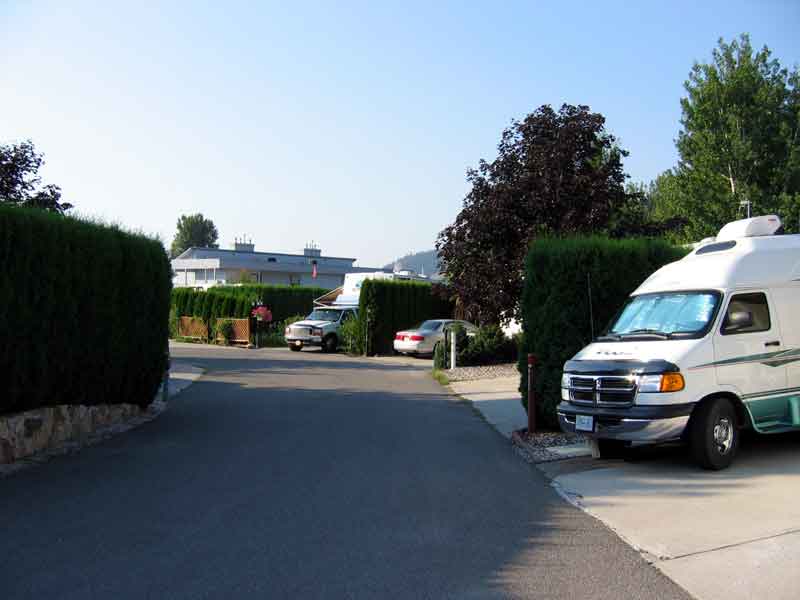 KELOWNA, BC



Holiday Park Resort (2004)
SI, ST
This park is a combination RV park and condo resort on Duck Lake just north of Kelowna. The sites are small and it is expensive. You can get a three night stay for $60 if you are willing to listen to a sales pitch. Would not recommend this very highly. Other parks in the area are also expensive compared to other locations in BC.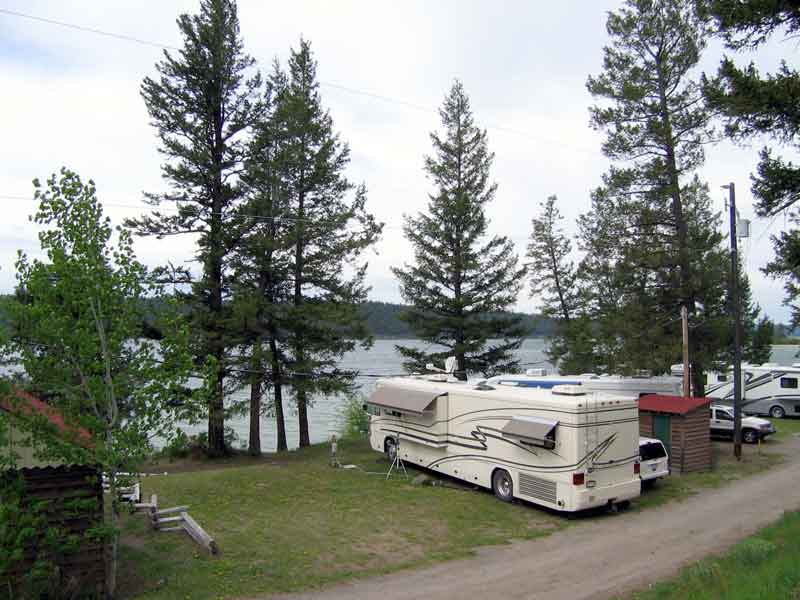 LAC LA HACHE, BC



Fir Crest Resort (2004)
SIs, STs

This gets high ratings from us. The people were great as was the campground. The lake front sites are best even though they only have 30 amps.


MUNCHO LAKE, BC



J&H Wilderness RV Park (2004)


This park has two areas. The lower area has sites near the water but smaller. The upper area has long pull throughs that can easily hold a big rig with towed attached. The only problem with this campground is that the only power is 15 amps.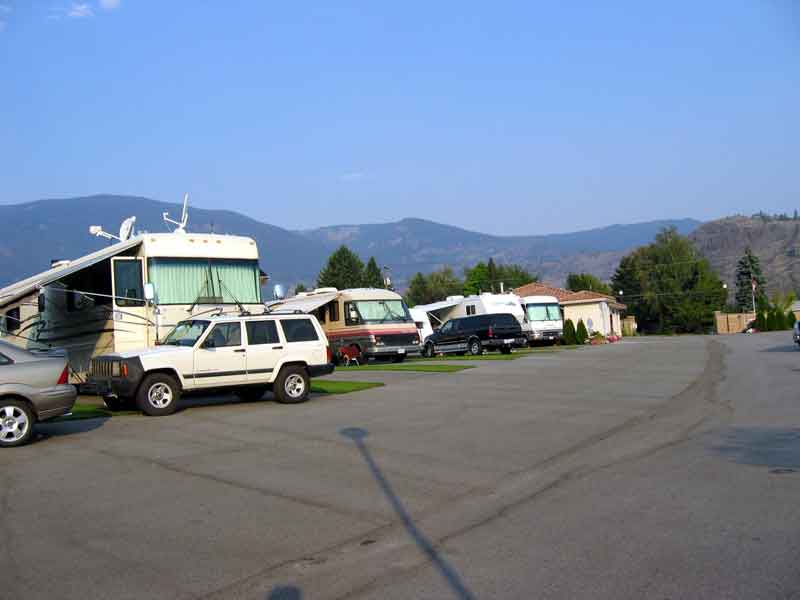 OLIVER, BC



Desert Gem RV Resort (2004)
SI, ST
This is a relatively new RV park just south of Oliver, BC. Its facilities are excellent with nice paved and level pads. Not many trees for shade but that is ok with us since we get 50 amps and access to our internet and TV satellites. Overall a nice park. The folks here are very nice and go out of their way to help you discover the local area.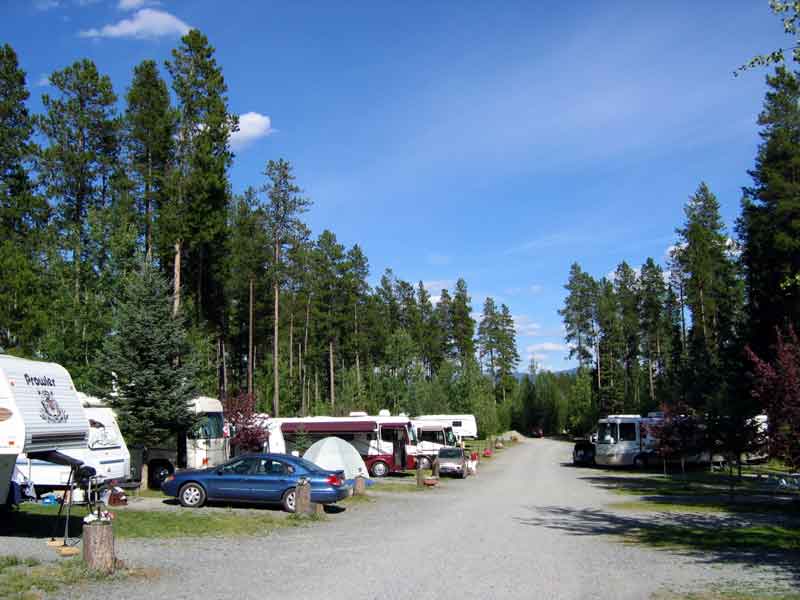 PRINCE GEORGE, BC



Southpark RV Park (2004)
SIs, STs, WiFi

This is a very nice and clean RV Park. The sites are average width with some narrow. The owner, Robin, is very friendly and helpful.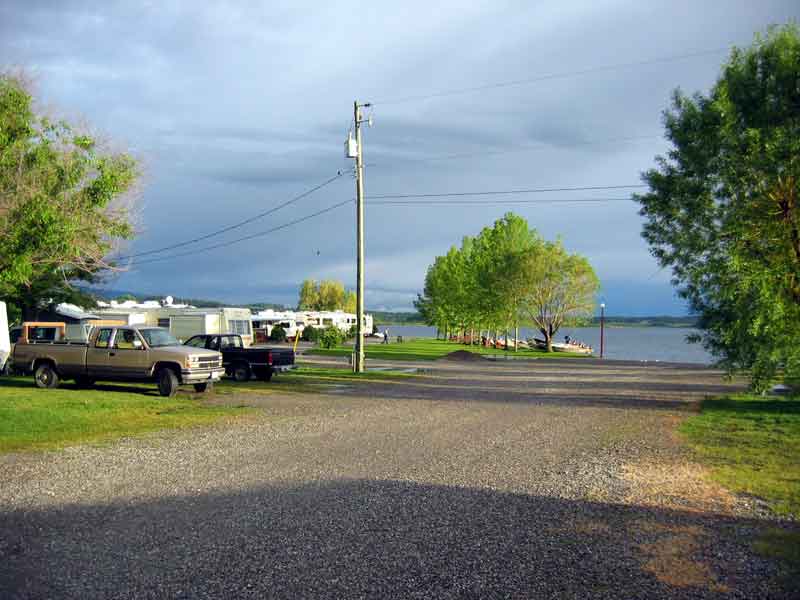 QUESNEL, BC



Robert's Roost RV Park (2004)
SIs, STs

Situated on the lake with access for boat launching and float tubes.


VALEMOUNT, BC



Irvin's RV Park (2004)
SI, ST

As you can see, this is a relatively new park, with trees that have not grown much yet. It is located midway up the eastern border of BC on Hwy 5, about an hours drive to Jasper. The sites are wide and all have a great view of the surrounding mountains. Good big rig sites with 50 amps.

---
CALIFORNIA
---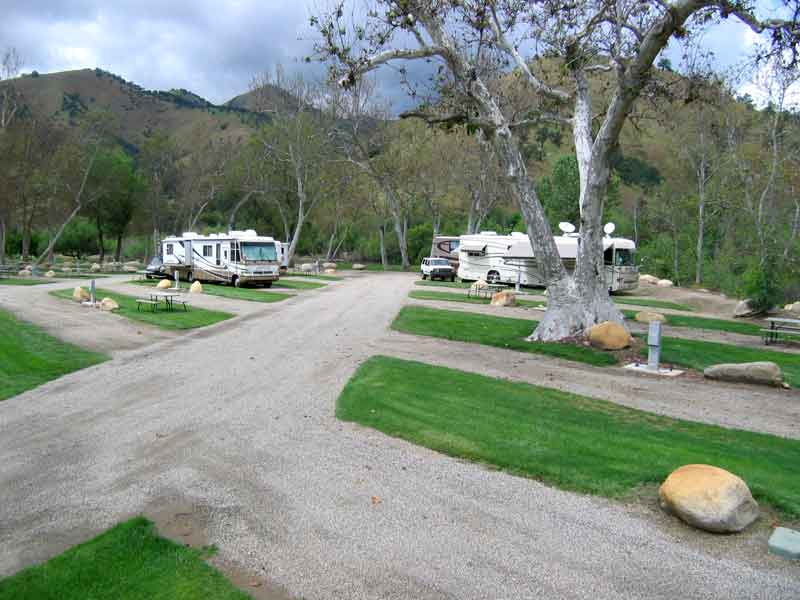 THREE RIVERS, CA



Kaweah RV Park (2005)
SIs, STs (sites 31, 32 and center section)
This is in Three Rivers, east of Visalia, near the entrance to the Sequoia NP. It is a small park on the river which is quiet and very pleasant.

---
COLORADO
---
CREEDE, CO


Mountain Views at Riversedge RV Park (2005)
SI, ST, WiFi

This is a combination RV resort and campground. Some sites are for lease and can be customized to your own likes, like the one we are in shown in the picture on the left. The other section is a regular campground. The lease section is under development, especially the sites along the river.

The campground is located on the Rio Grande river south of the town of Creede with great views in all directions. The altitude here is 8900 feet, so it gets cold at night (low 30s) during mid September, when we were there.

The sites are large and well maintained with easy access. The staff are all really friendly and helpful.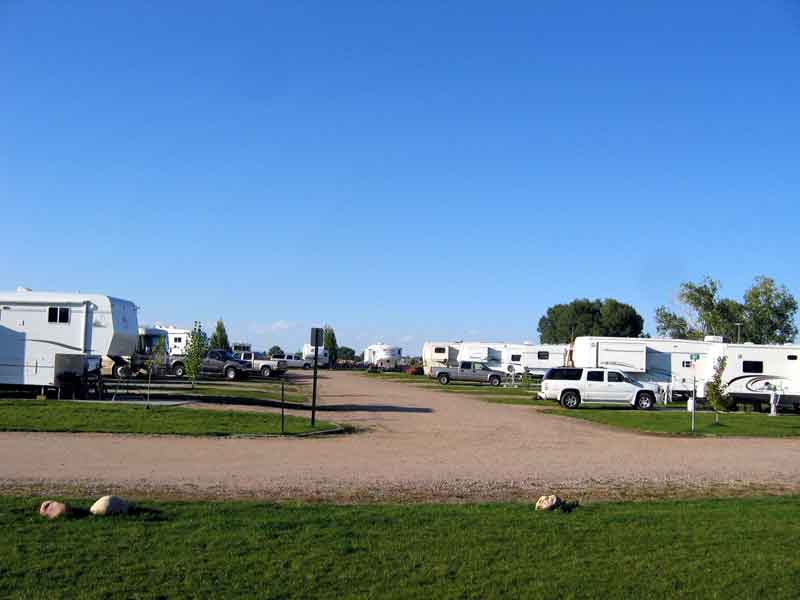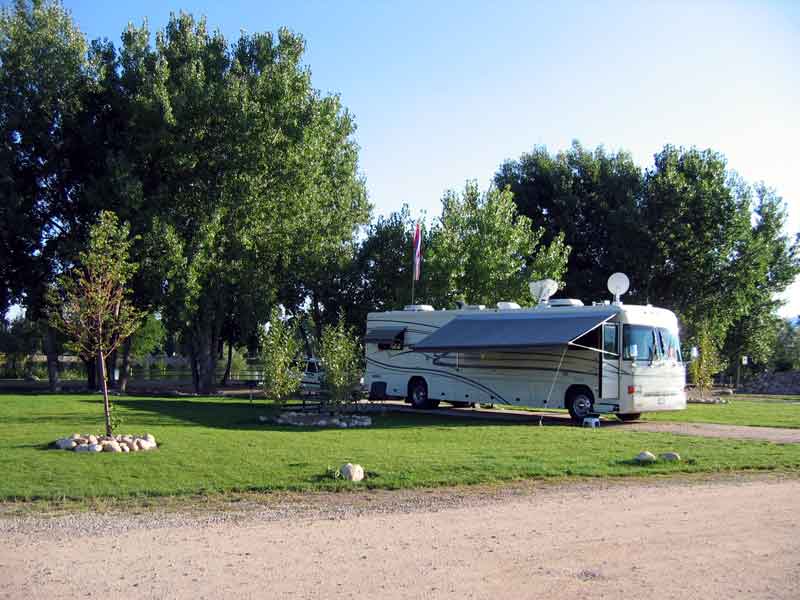 FORT COLLINS, CO



Lakeside KOA (formerly Heron Lake RV Park) (2004,5,6)
SI, ST, WiFi
We really enjoy the Fort Collins area and this is our favorite campground there. The sites all have cement pads and grass patio areas. They have three levels of sites. Two are the normal sites as shown on the right, with some having more space between the pads. There are four sites that are on the lake and are very large. Three of these have access to the satellites, #66, #68 and #69. The picture on the left is our coach in site #68. All the sites are equipped with full hookups and 50 amp service. They also have instant phone, free WiFi and sat TV. We had good cell phone service.
There is a walking trail around the small lake and there is minimal traffic noise from nearby highways or trains.

---
IDAHO
---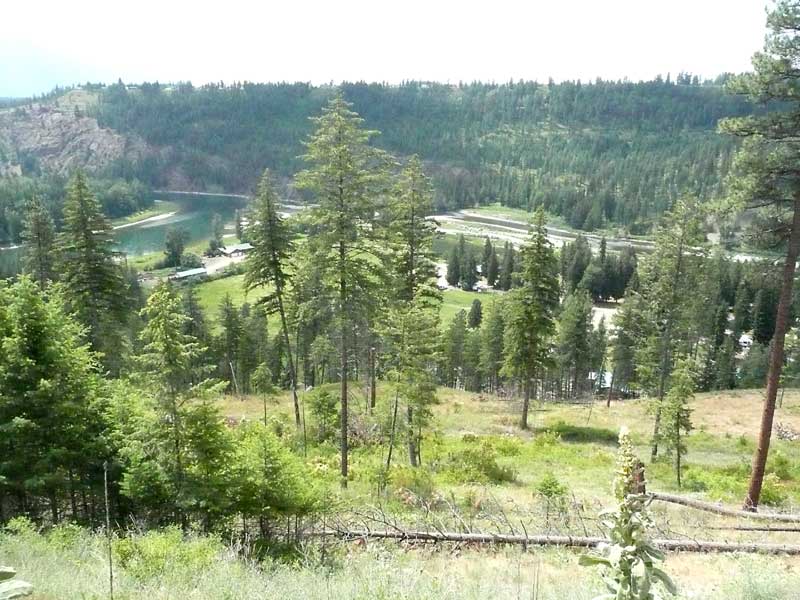 BONNERS FERRY / MOYIE SPRINGS, ID



Twin Rivers Canyon Resort (2009)
SIs, STs (Very few sites have satellite access)
This is a unique campground, at least in our experience, since it is located at the convergence of two rivers. The Kootenai (Kootenay in Canada) is the large river at the left of the picture, flowing from the bottom to the top. The Moyie comes in from the right and flows across the top of the picture. The camp sites are in the darker trees about 2/3 up and on the right.
This campground is accessed from a winding switch back road flowing down a steep canyon wall. The picture was taken near the top of the road. Big rigs can navigate without a problem, at least our 40' motorhome did. It is recommended that you unhook your towed before driving this road.
The sites are shaded with lots of tall trees. There is a boat ramp for access to the Kootenai and a playground for the kids with swings, slides, etc. They have full hookups but only 30amp power.
We really like this campground and recommend it highly. The people that run it are nice and very helpful.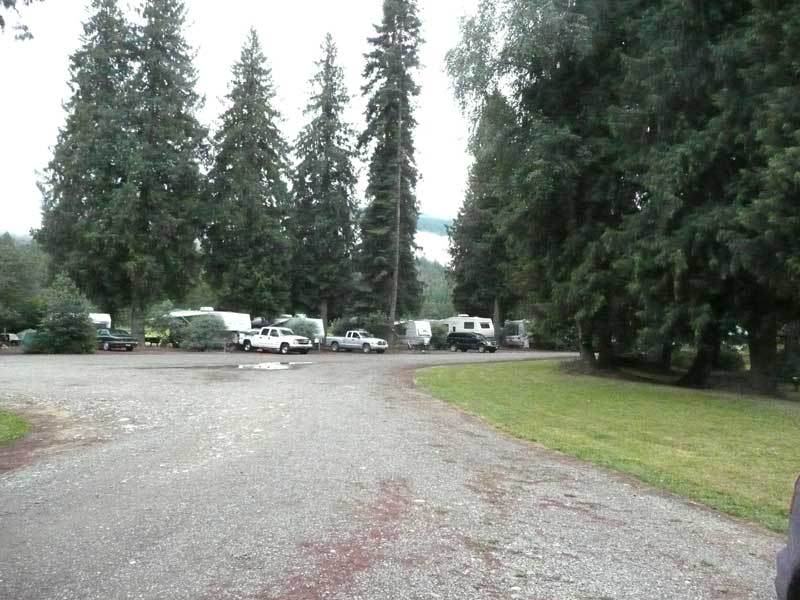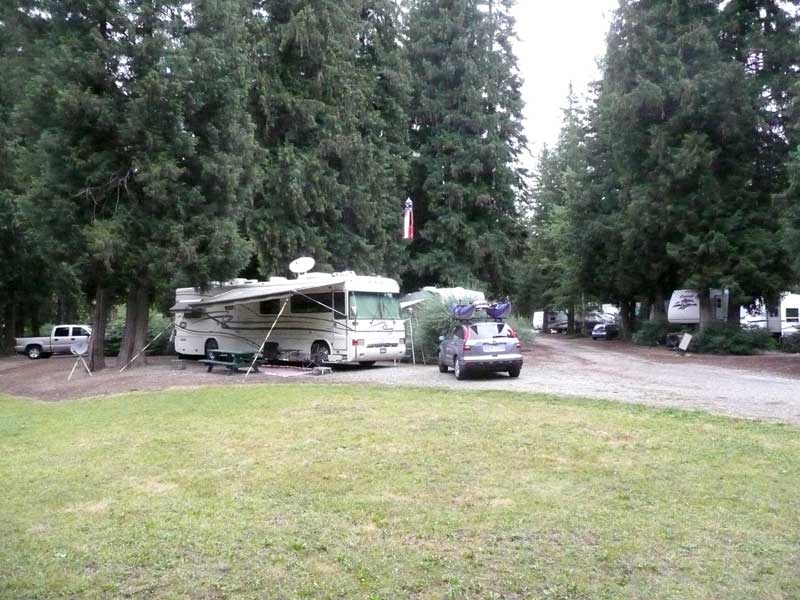 Typical campsites at Twin Rivers Canyon Resort.

DECLO, ID



Village of the Trees (2007)
SIs, STs, WiFi

An average campground with easy access for big rigs. Situated next to the Snake river, but no campsites actually on the water. It is also very near the highway and therefore is rather noisy. It also has dirt interior roads that are not oiled or treated and are very dusty.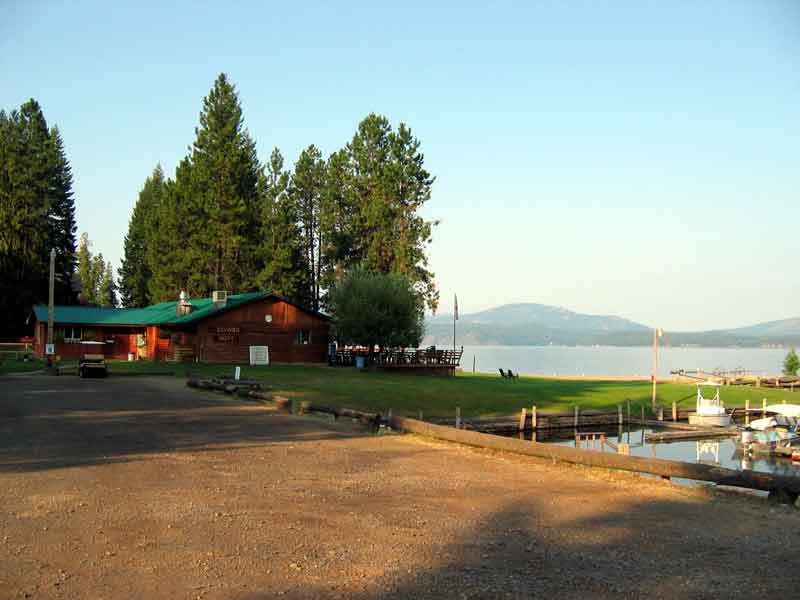 HOPE, ID



Beyond Hope Resort (2004,6,7)
SIs, STs
This is one of our favorite campgrounds. It has nice wide grass sites located in an upper and lower section. We like the upper because it is more isolated and we can get our satellite TV and internet easily. We call it "Above & Beyond Hope". The lower sites have more trees and are closer to the facilities. There are all the normally expected facilities plus a four star eatery with a deck overlooking the water, a beach for swimming and a boat launching ramp and docks. It is also located in a game preserve so, lots of deer come roaming through the campground.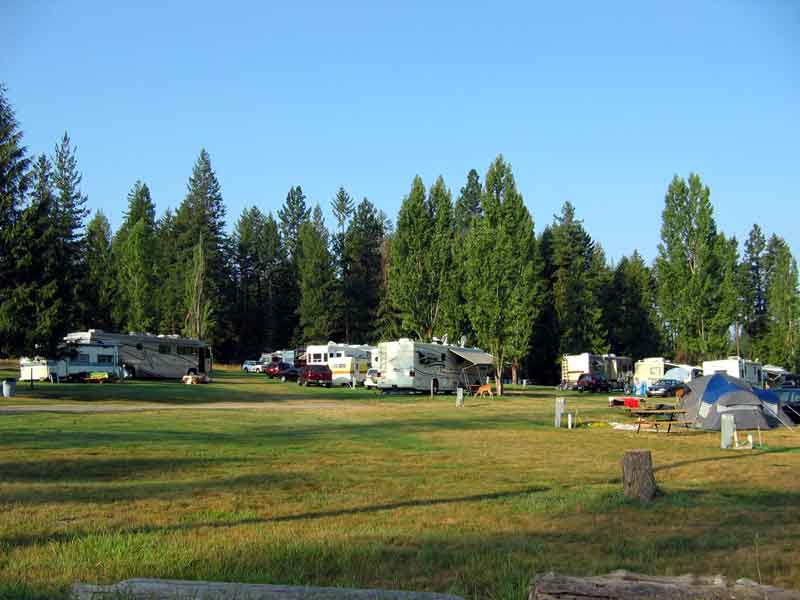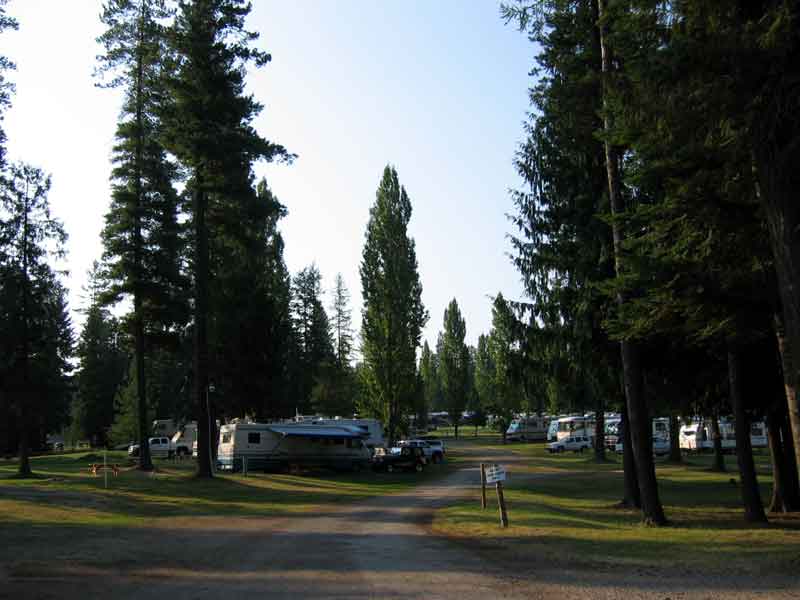 Left: "Above & Beyond Hope" - Bigger sites with better views of the satellites. Note the deer.
Right: Lower Beyond Hope - Closer to the facilities and more trees.

ISLAND PARK, ID



Red Rock RV and Camping Park (2007)
SI, ST, WiFi

This is an above average campground that is about five miles west of Hwy 20, between Mack's Inn and West Yellowstone. Some of the sites have great views of the valley and surrounding mountains. It is just about a mile south of Henry's Lake. It is very quiet and isolated, well worth the additional five miles drive when going places.


McCALL, ID



McCall RV Resort (2005)
SI, ST

A very nice, high end resort campground. The sites are large and well situated and maintained. They are adding sites that are on the river, but the city had not finished their sewer work so we could not stay in one of those. This park gets high marks from us.


SALMON, ID



Salmon Meadows Campground & RV Park (2005)
SIs, STs

A nice campground with long, medium wide sites. Grass sites with plenty of trees. The long pull throughs have easy access and are long enough that you can position your RV so that rooftop antennas can be used and all have 50 amps.

---
MONTANA
---
BIG TIMBER, MT



Spring Creek Campground (2009)
SI, ST, WiFi(free)

This is a very nice campground located about two miles south of Big Timber, MT on Hwy 298. It is on the Boulder river, a blue ribbon trout stream. The sites vary in size but no problems for big motorhomes. No sewer hookups in the sites on the river but they have a honey bucket service for $10 if you stay long enough to need it; or you can use the dump station. There are sewer hookups at other sites in the campground.

They have two well stocked trout ponds. These are really great for the kids. We saw a boy that was around five years old come with his dad and his fishing pole. He cast into the pond and caught a trout, all by himself. He was so happy, as were several other kids, catching fish with their parents or grand parents. There is a charge for the fish you catch, but that makes sense considering the cost of maintaining and stocking the ponds.

Nelda and Lynn, the sisters that run this campground, keep it in beautiful condition. That and the quiet location, make it a top rated campground in our books. You can go to sleep listening to the sound of the river, not bad eh?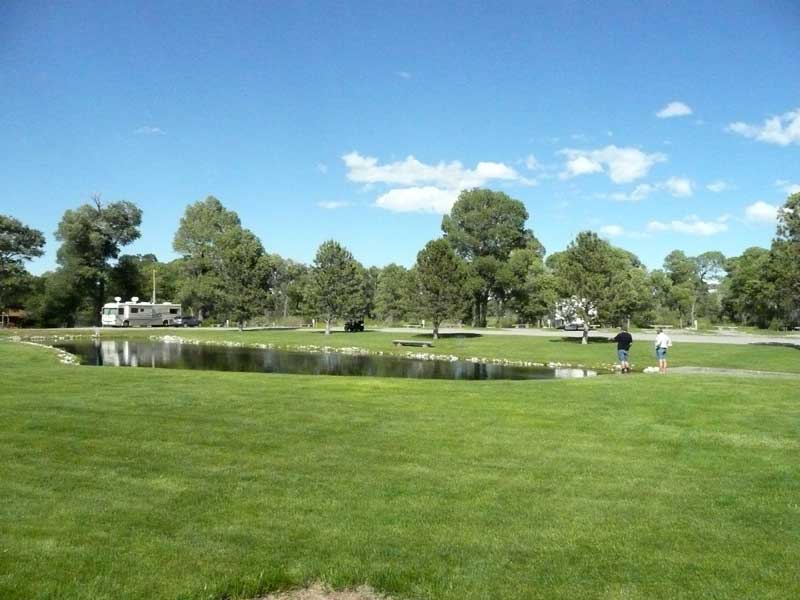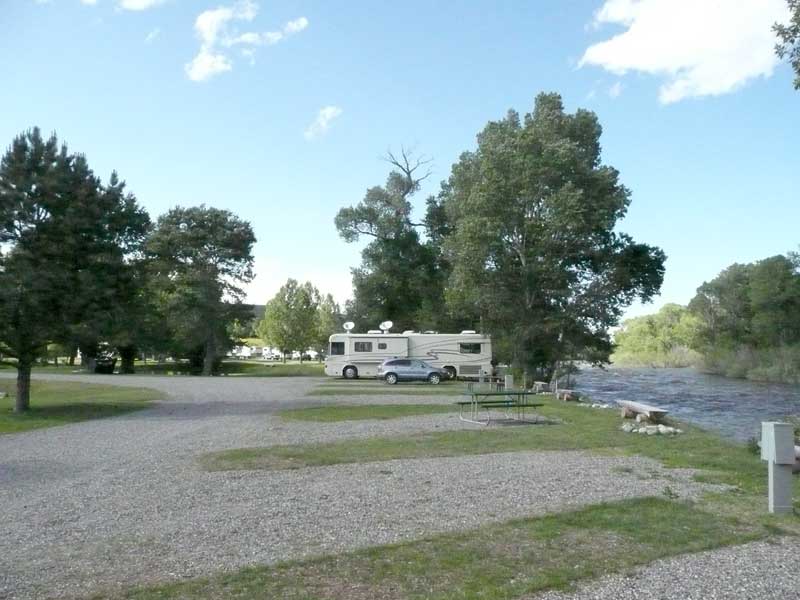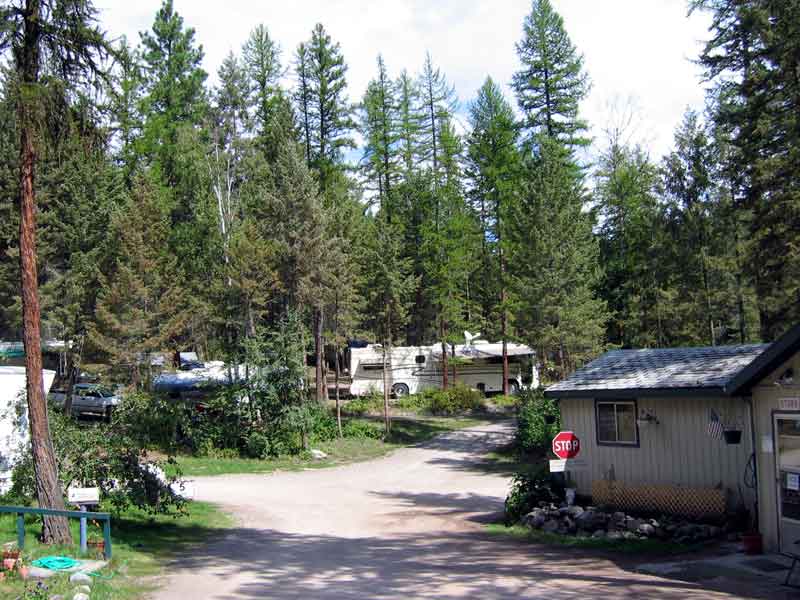 BIGFORK, MT



Outback Montana RV Park (2004)
SI(#6 only), STs

This is a nice campground with terraced sites in the trees. Access is not the best for a big rig but ok with a little manuevering. We really like the easy access to Bigfork from here and it is a very relaxing place to camp. Cathi and Dale, the owners, are really great people that go out of their way to help. They are looking into putting in WiFi and 50 amps, so check with them in the future.


GREAT FALLS, MT



Dick's RV Park (2005)
SI, ST, WiFi

An average park that is well maintained and has long and wide pull-thru sites. It is well located, with easy access to most of the sights and stores.


HAMILTON, MT



Black Rabbit RV Park (2005)
SIs, STs (sites 40-53)

A small park between Hwy 93 and the Bitterroot River. The sites are narrow and the roads dusty but the front row is nice since you are looking out on the cottonwoods that line the banks of the river. A 40 footer just barely fits with room for the towed.


HARDIN, MT



Hardin KOA (2005)
SI, ST, WiFi

A small campground that is well maintained and is far enough off the road that it is quiet at night. The owner is very friendly and helpful.

The only problem is that the sites are arranged so that you have shared patio areas. The sites are long so that one RV is at one end of the area and the other at the other end so that the other RV's area is at the rear of your RV.


HEBGEN LAKE, MT



Yellowstone Holiday RV (2009)
SI, ST, WiFi

This is a very nice, well designed campground on the north shore of Hebgen Lake. It is on Hwy 287 about 20 minutes northwest of West Yellowstone. The staff is really friendly and nice to deal with. We were in one of the water sites which are very nice, with great views.


St. REGIS, MT



Nugget RV Resort (2007)
SI, ST, WiFi

This is a very nice, well designed campground that boarders a National Forest area. We got one of the sites next to the trees and were very happy with it. The owners are really friendly and nice to deal with. Ted left our hose bib attached to the water pipe and they called us the next day and sent it to our next campground.

---
OREGON
---
BAKER CITY, OR



Mtn. View Holiday Trav-L-Park (2008)
SI, ST WiFi

Very nice campground with good sites for large rigs. Very quiet and it even has views of the Elkhorn Mountains, which were topped with snow when we were there. The staff is a pleasure to deal with.

There are very good tennis courts about a 5 minutes drive away at the highschool.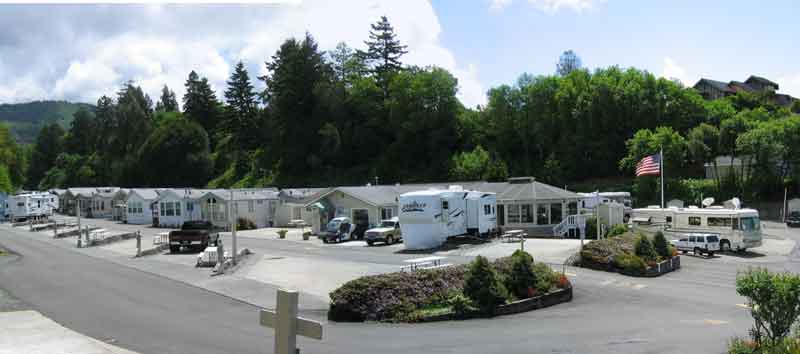 BROOKINGS, OR



Portside RV Park (2005)
SIs, STs, HI

Small campground near the harbor. It is average as is the Driftwood RV Park next door. Good location with a good seafood eatery across the street.


BURNS, OR



Burns RV (2007)
SIs, STs

Small but nice. This is a good place to overnight.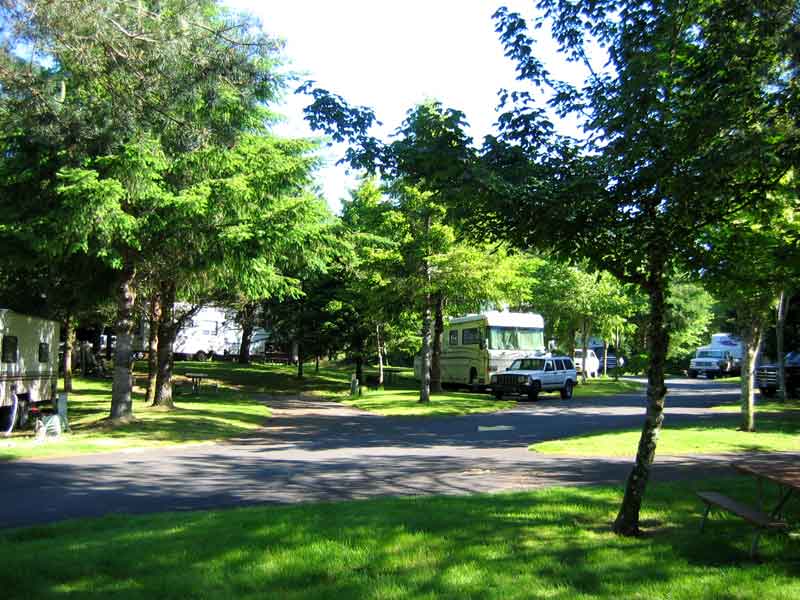 CANNON BEACH, OR



RV Resort at Cannon Beach (2005)
SIs, STs
This is a nice, very quiet campground about a block east of Hwy 101 at Cannon Beach, OR. The sites are all shaded so very few have access to sat Internet or sat TV. We are in site 97 which gives us access to both. I am sure that other sites also provide this feature. Access to the town is an easy drive and can even be walked if you don't mind a couple of miles.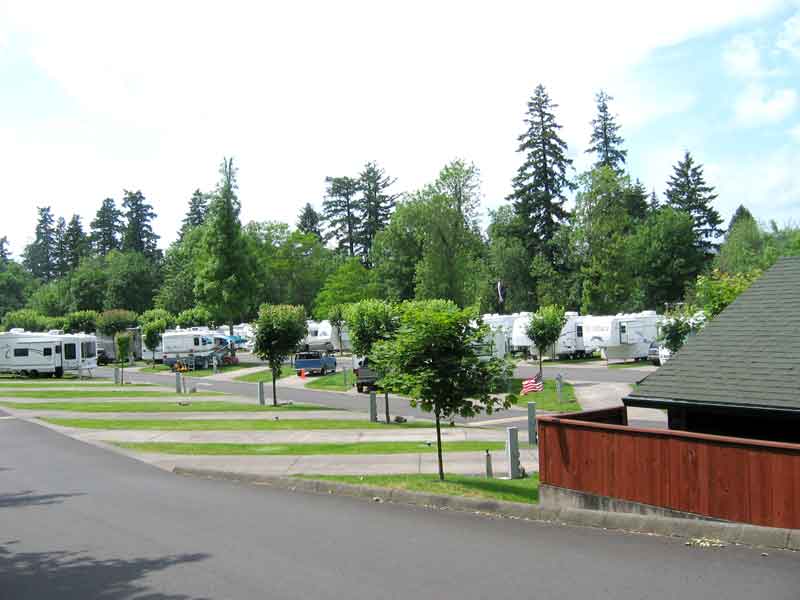 TUALATIN, OR



Roamers Rest RV Park (2005)
SI, ST

Tualatin is south of Portland on the Tualatin River. The campground is on the river but it is hardly flowing and you wouldn't want to swim in it. The RV sites are short for a 40 footer and very close together. Its location is its main attribute, being between Portland and the northern Willamette River wine country.


McMINNVILLE, OR



Olde Stone Village RV Park (2007)
SI, ST

This is an upscale RV park with concrete pads surrounded with grass. The staff is really nice and helpful. The Evergreen Aviation Museum, home of the "Spruce Goose" is right next door and the drive into town is short and easy.








WINCHESTER BAY, OR



Marina RV Resort (2005)
SI, ST
This is one of those RV Parks where you really feel comfortable. Our site (112) is on raised ground over looking the marina out our right side. The sites are asphalt with green grass everywhere else.

---
SOUTH DAKOTA
---
FORT PIERRE, SD



OAHE Downstream Recreation Area
SIs, STs

This is a very nice campground located near Pierre and Fort Pierre. The only problem is that it only has electrical hookups, mostly 30 amps but some sites have 50 amps. There is water available at faucets throughout the campground and a dump station.

There are acutally three campgrounds and we were in #2. They are all similar and we picked the site we were in because we could get our satellite access from it.

There is a small cafe and store at the boat launch and the food is great. If you stay here, you will really enjoy eating there.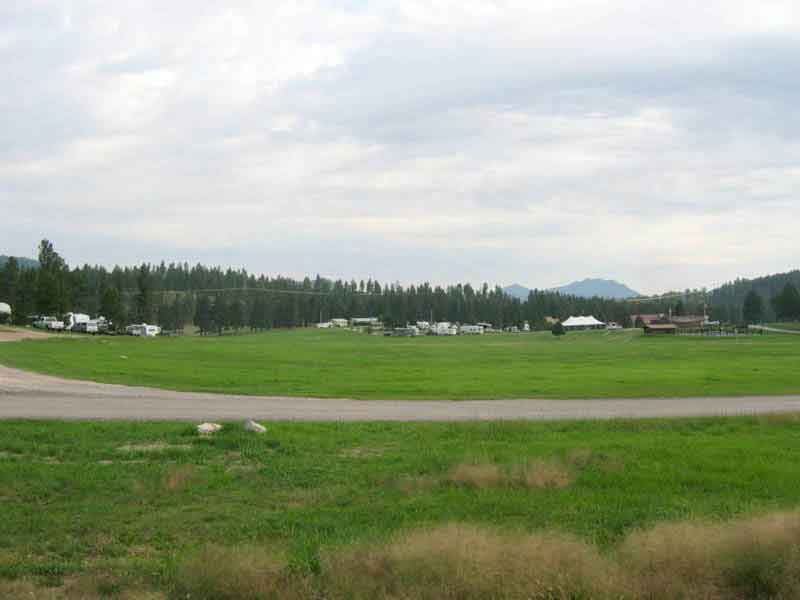 HILL CITY, SD



Rafter-J-Bar Ranch (2007)
SI, ST, WiFi
This is a really great RV park. It has 55 acres spread out over rolling hills with campsites in the woods or out in the open. It also has cabins if you have people traveling with you without an RV.We like the sites that are in the woods but look out over one of the meadows.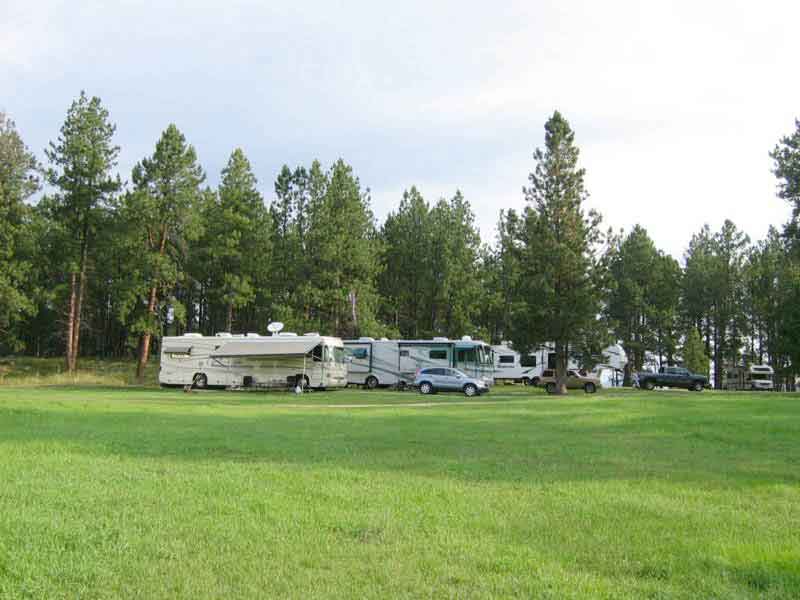 ---
WASHINGTON
---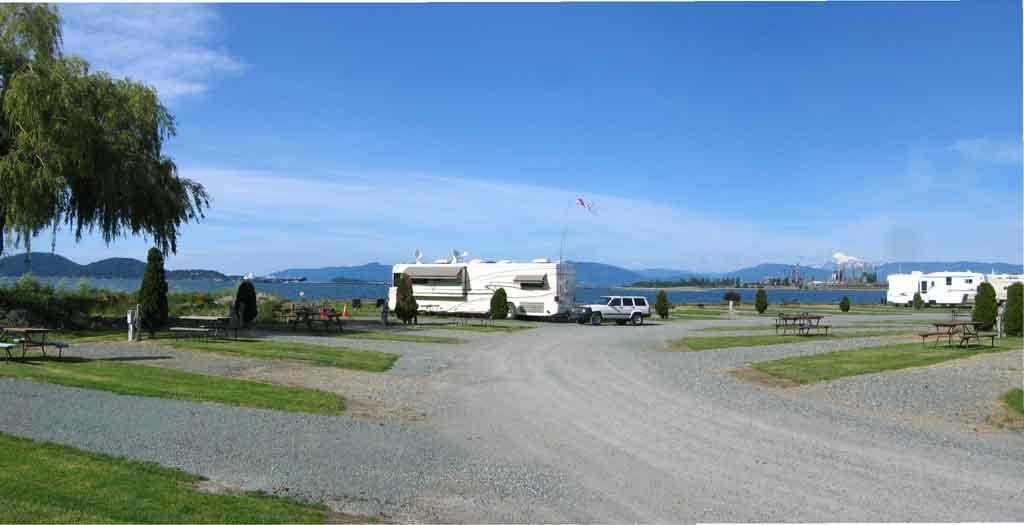 ANACORTES, WA



Fidalgo Bay Resort (2005,7)
SI, ST, WiFi

This is a class A RV Park. This is especially so for us, because we have chosen to take one of the waterfront sites that has a spectacular view of the bay and surrounding mountains. That's Mt Baker you see in the picture. We got this site because we called last March for a reservation and got one of the two remaining waterfront sites for the time period that we wanted. They go quickly.


ELLENSBURG, WA



Ellensburg KOA (2008)
SI, ST

An average campground on the bank of the Yakima River. Some large pull thrus with easy access for a large rig. The only problem is that it is next to the highway and therefore somewhat noisy.

We were there in May and the river was raging with the snow melt. When it flows at a normal rate, it would probably be fun to fish it.


FERNDALE, WA



The Cedars RV Resort (2008)
SI, ST WiFi

A very nice campground. Very well setup with hedges between the sites. Like everything else in this part of the world, all the plant life is green and healthy. Good access for large rigs. Some sites are very narrow, as if they were designed for small rigs without any slides. Other sites are very wide with lots of room even for the rigs with four slides. Be sure to tell them your rig size when you make reservations.


MONITOR, WA



Wenatchee River County RV Park (2007)
SIs, STs

This is an excellent RV park. The backin sites are arranged around several loops with asphalt pads and lots of trees and grass. It is on the Wenatchee River and some of the sites are river front sites. The only problem is train tracks on the other side of the river that are used several times a day.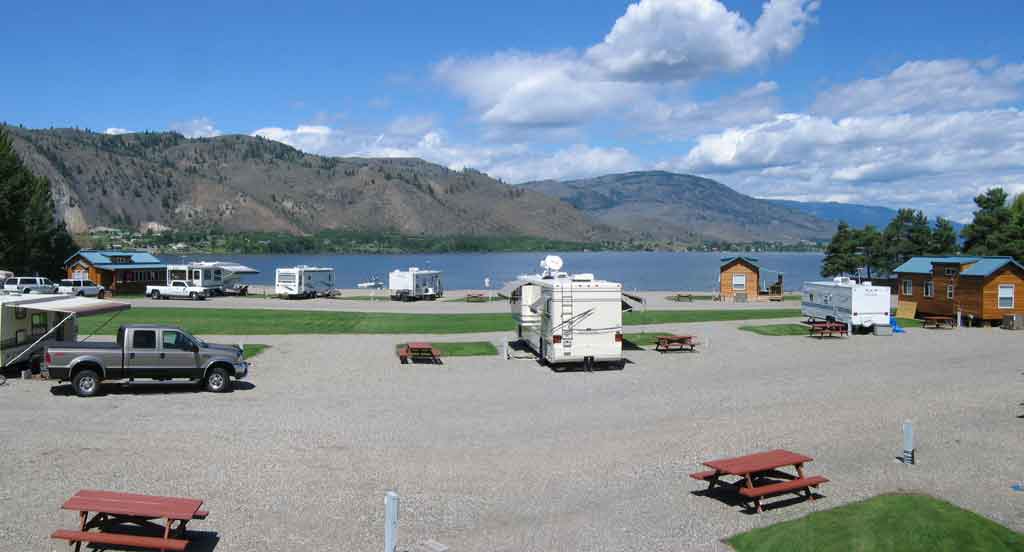 OROVILLE, WA



Oro Beach RV Resort (2005)
SI, ST, WiFi
This park is on the beach at Lake Osoyoos, which is a large lake that spans the US/Canadian border. The campground is near the town of Oroville, about four miles from the border. The campground is being converted to an "own your own campsite" campground and it is not clear how reservations will be handled in the future. Currently only a portion of the sites have been sold and you can still get reservations by calling. The campround has an upper and lower section and is very well maintained with easy access to wide sites. The lower section is shown in the picture.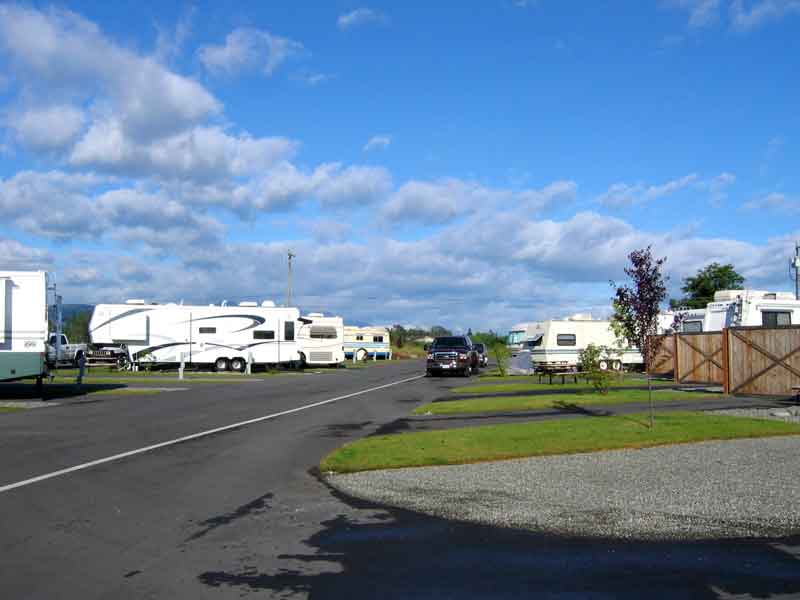 SEQUIM, WA



Gilgal Oasis RV Park (2005)
SI, ST
This is a small but very nice RV park. It is very well maintained with average size sites. Good access for big rigs. Well situated near the town with good access to Hwy 101.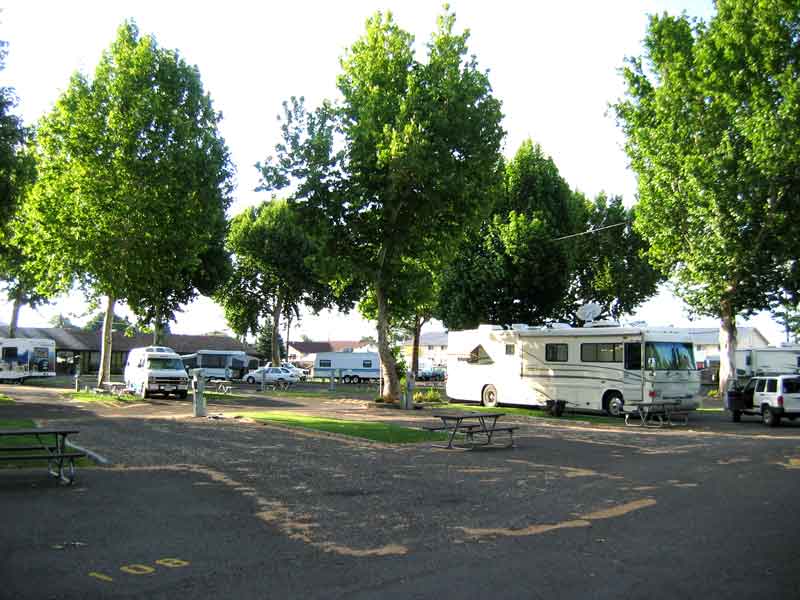 YAKIMA, WA



Trailer Inns RV Park (2005)
SIs, STs, WiFi
An OK park with wide spaces and nice trees. Very near the main part of town and with easy access to the freeways.

---
WYOMING
---
CODY, WY



Absaroka Bay RV Campground (2005)
SI, ST

An average campground located near the down town of Cody. The sites are nice but somewhat narrow. Not as big and crowded as the campgrounds west of the down town. The staff and owner are very nice and helpful.


LANDER, WY



Sleeping Bear RV Park & Campground (2005)
SIs, STs

We like this campground because of the people that run it and the view you get from the end sites. The best site is GB1 and the next best is PB1, both of which are on the end of a row of sites. The campground is situated on a bluff that overlooks Lander and its surroundings and that is why the views from these sites is so good. Access is good and the sites are medium wide, with the end sites being somewhat wider. The folks that run this campground are super in all respects.


SUNDANCE, WY



Mountain View Campground (2007)
SI, ST, WiFi

Good campground with good access for big motorhomes. The new owners are very nice and helpful, even calling us before we arrived to clear up our preferences as to which site we wanted. Water pressure is high and you will need a regulator which they have at the camp store.

---
YUKON TERRITORY
---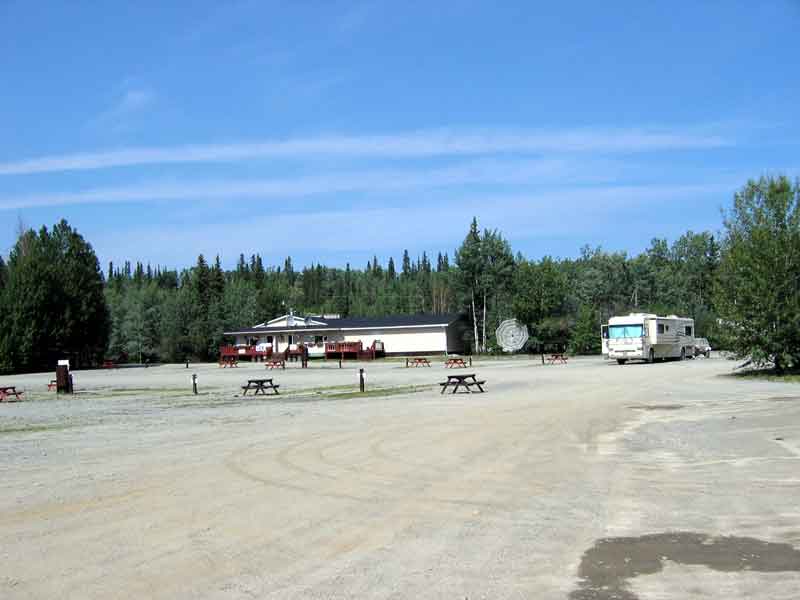 HAINES JUNCTION, YT



Kluane RV Park (2004)
ST

Strictly an overnighter. Six hour haul from/to Tok and a good place to stop and pickup reasonably priced fuel.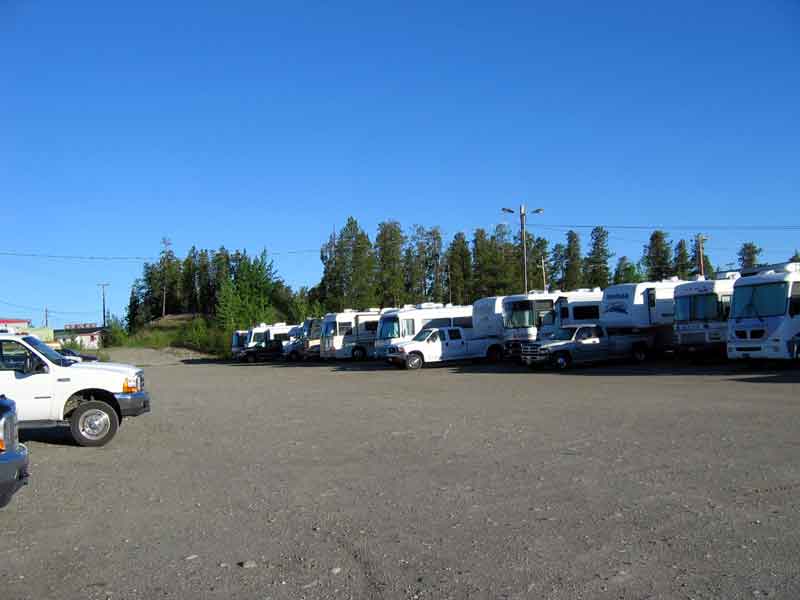 WATSON LAKE, YT



Downtown RV Park (2004)


Nothing but an overnight holding park. Walking distance to the Sign Post Forest and the Northern Lights Centre.


Mostly an overnight park. Good size sites, some with 50 amps but NO SEWERS. They have dump and wash. Located about 12 miles west of town.


WHITEHORSE, YT



Pioneer RV Park (2004)
STs, WIs

This park has two areas. The lower area has sites with sewers but they are very narrow, with not enough room to put out your big awning. The sites up on the hill are in the woods with good spacing, but no sewers. We like the ones up on the hill unless we need to do the laundry. As in most parks with WiFi, it only works well in sites that have a clear view of an antenna.