BLACK HILLS
We haven't been back to the Black Hills of South Dakota for about six years, so we figured we would venture there again this year. We stayed at the Rafter J Bar Ranch and Campground, a great RV park near Hill City. As always, the Black Hills were full of great sights and adventures, and we just played tourist. Some friends of ours from Tucson joined us for a week and helped us explore the area.
When we first arrived, Friday, at Hill City, the main street was blocked off and was being used for motorcycle parking only. It was the last weekend of the Sturgis Rally. That only lasted through the weekend and by Tuesday most of the "Harley Thunder" was gone and things were back to normal.
---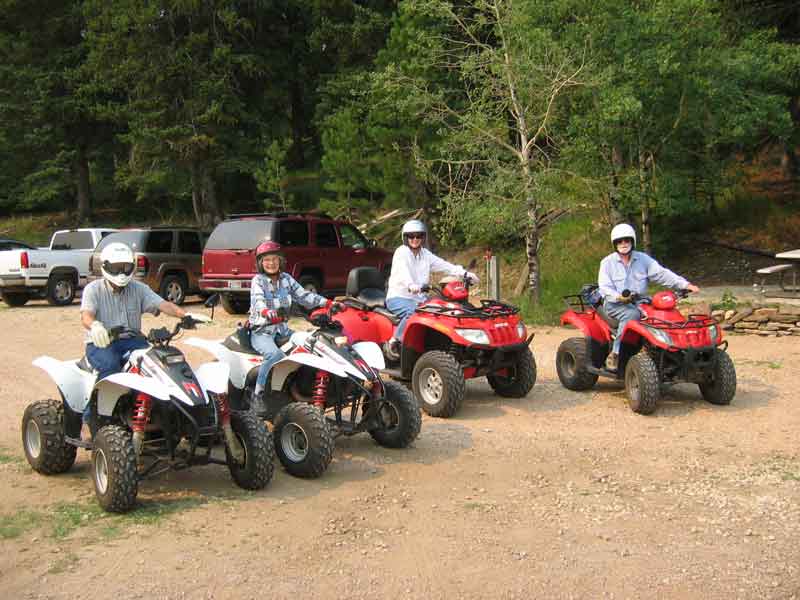 ATVing THE BLACK HILLS
One thing we like to do is to rent ATVs and go exploring the many trails in the Black Hills. We did this with some friends from Tucson, that now live in Sioux Falls, and came over to join us for a week. They were more expert at ATVing than us, so we had some handy hints from Jim and Bobbie.
We spent most of a day wandering the trails south of Deadwood. When we first started out Bobbie had a little problem with her ATV. It didn't have enough power to get up a steep grade, and we had to take it back and exchange it for another, which she liked much better. The story is that Jim, our leader, was kicking up so much dust that it clogged her air filter. From then on we did not have any problems ... Just a great time.
If you want to do something different and have a lot of fun, give it a try.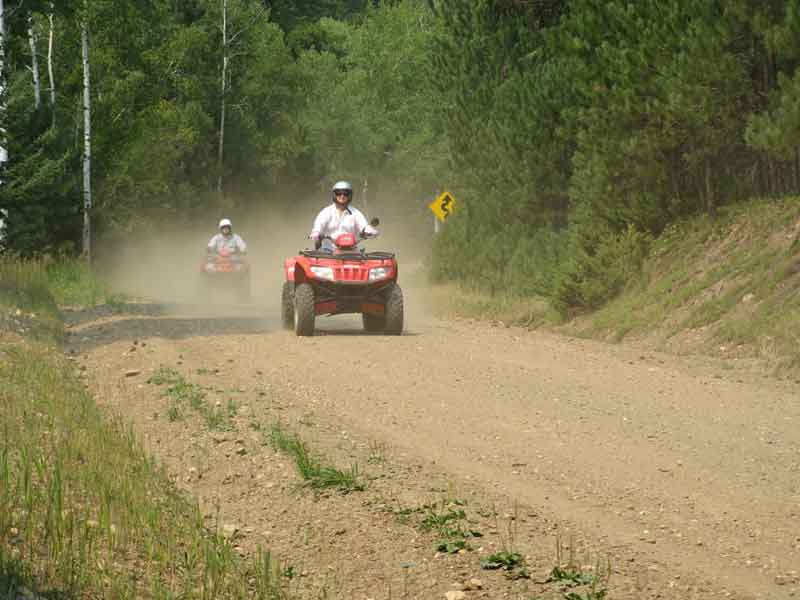 Left: Anne and Ted (the tail gunner) on a dusty trail.
Right: Bobbie and Anne checking to see what we are doing.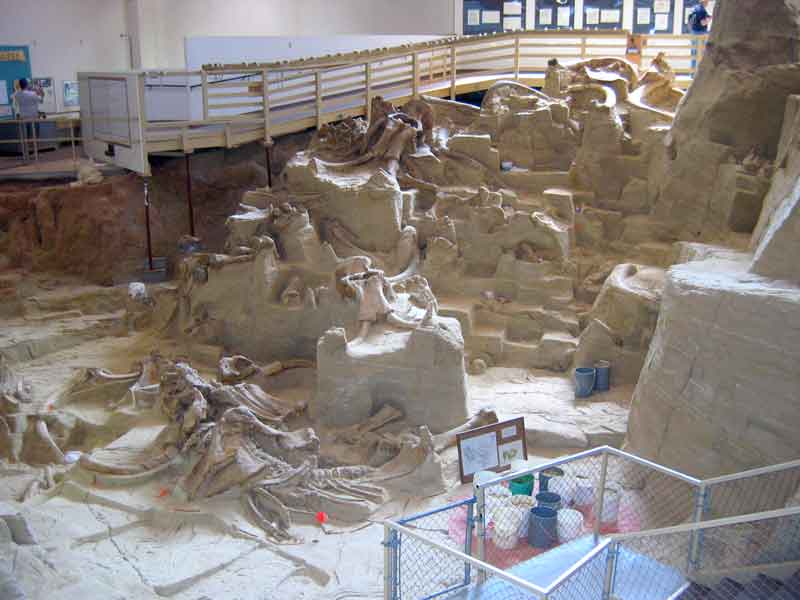 MAMMOTH SITE
There is a large excavation near Hot Springs, SD where many mammoths were trapped and died and were preserved in the sediment. It makes a very interesting place to visit, especially for the kids.
The site is where a large sink hole formed and the mammoths came to drink. The sides were very steep and many of the mammoths were not able to climb out after going down to drink and take mud baths. The sediment that formed over them preserved them and you can see the results at this exhibit.
Most of the mammoths at this site are of the Columbian variety. They are about twice the size of the Woolly mammoth and lack its long hair. In fact, the Columbian mammoth is much larger than the largest elephants alive today.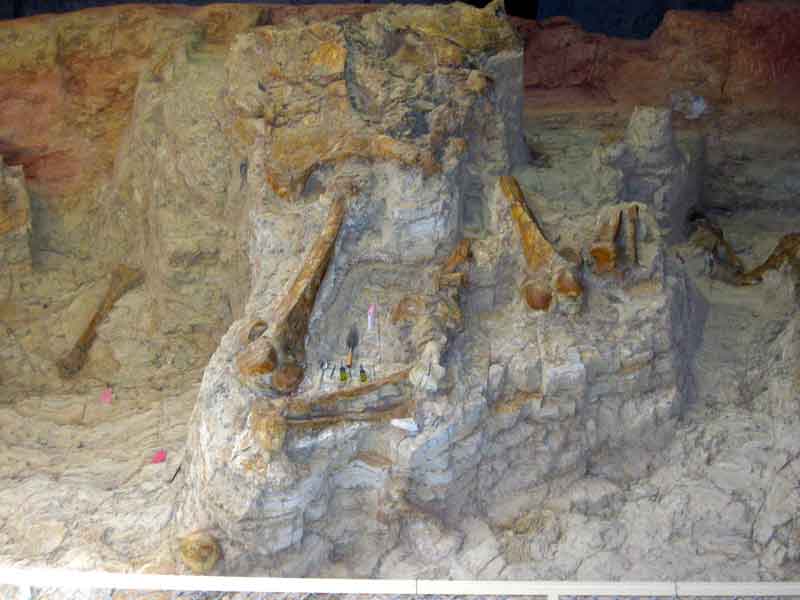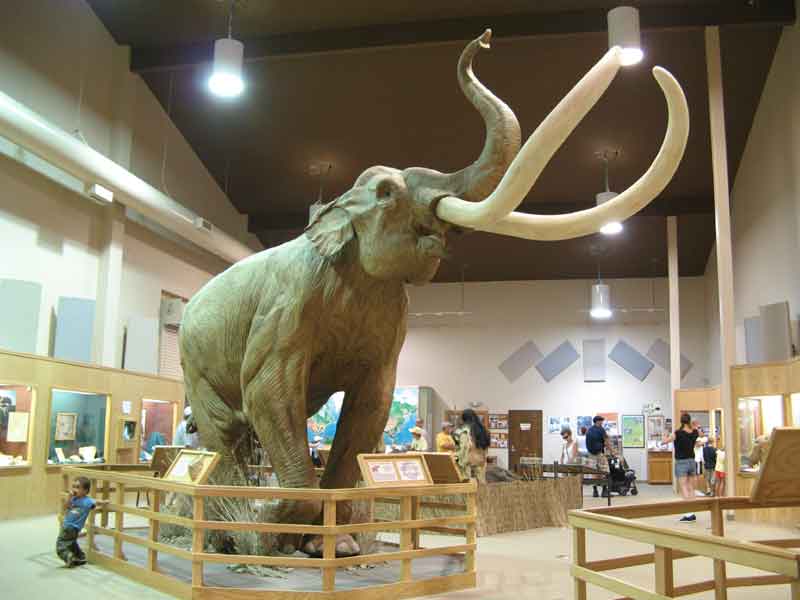 Left: The excavated body of a Columbian mammoth.
Right: Larger than the Woolly mammoth, this is a full sized Columbian Mammoth.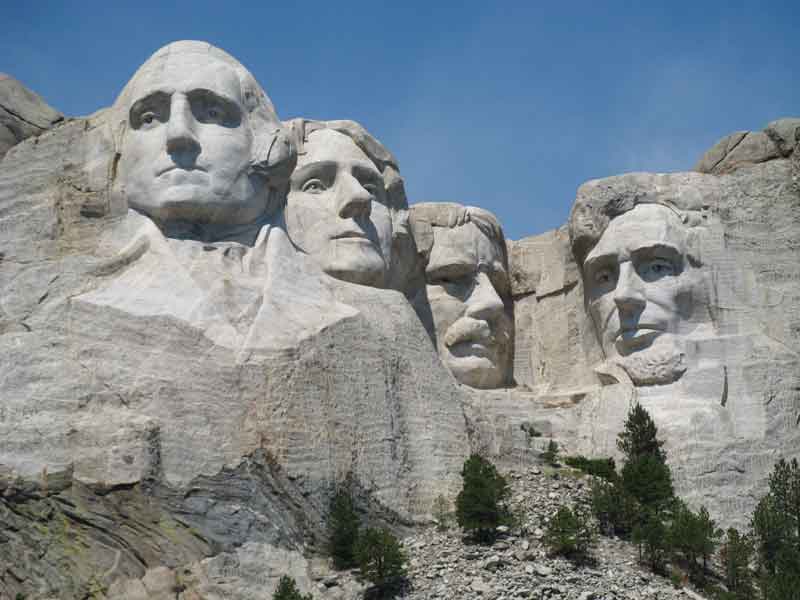 Mt. RUSHMORE
Borglum's tribute to the presidents that shaped our country is always a place that you have to visit when in the Black Hills. It is so awesome that you have to see it again, even if you have seen it before. Pictures cannot do it justice; you have to see it up close to appreciate its true grandeur.
We visited the Borglum museum in Keystone before going to the monument. This presents a very good picture of the sculptor's life and accomplishments, much more than just what he did at Mt. Rushmore. One of his more famous sculptures, "The Seated Lincoln" is in front of the museum and many others are inside. A visit here is a good compliment to his workshop at Mt. Rushmore.
Besides a daytime visit, there is also a lighting ceremony each night where the Flag is lowered and the mountain is lit.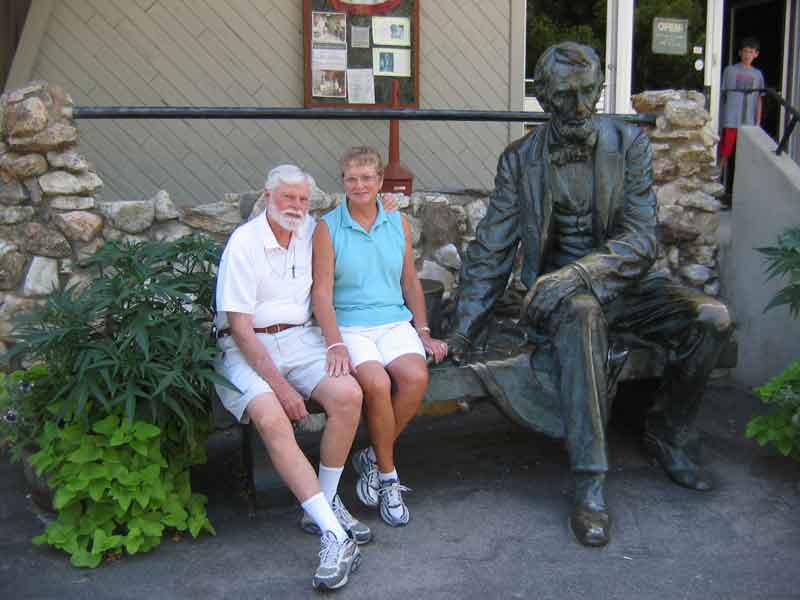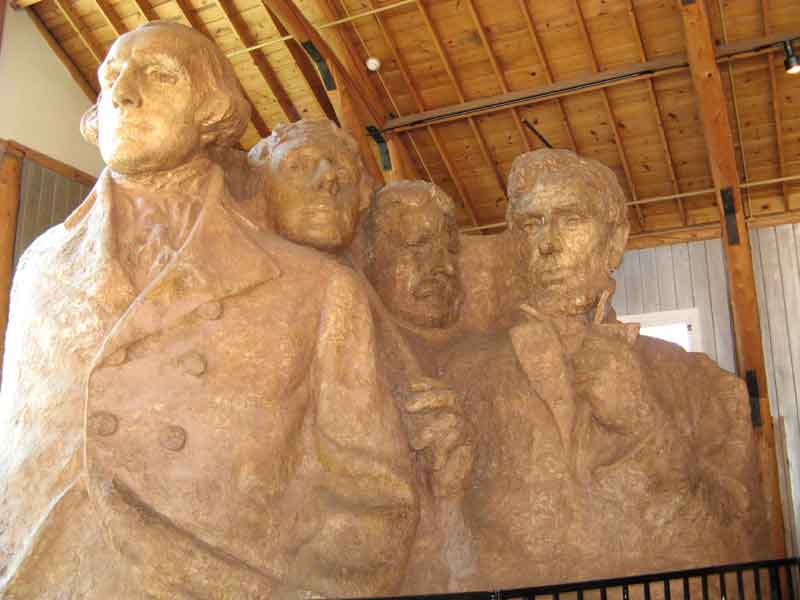 Left: Anne and Ted next to Borglum's "Seated Lincoln" at the Borglum Museum in Keystone.
Right: Model created by Borglum to provide measurements for Mt. Rushmore. It was never finished to this level.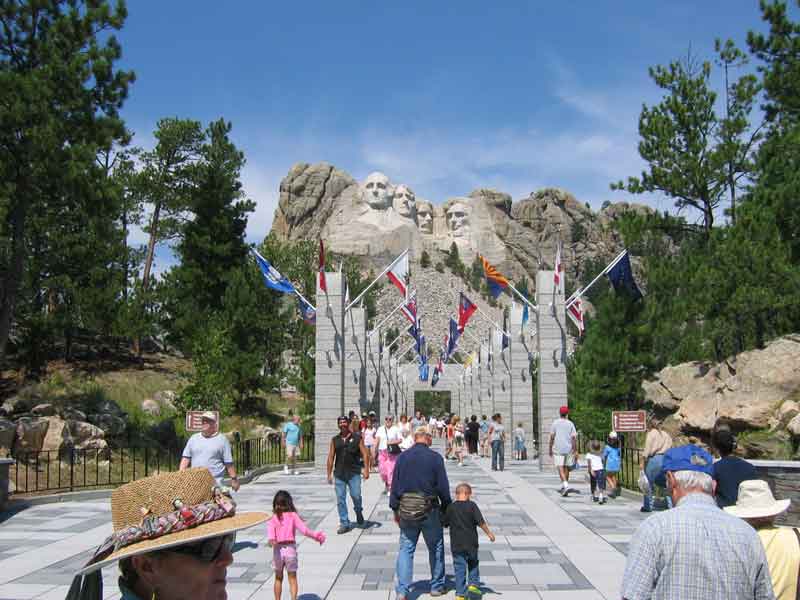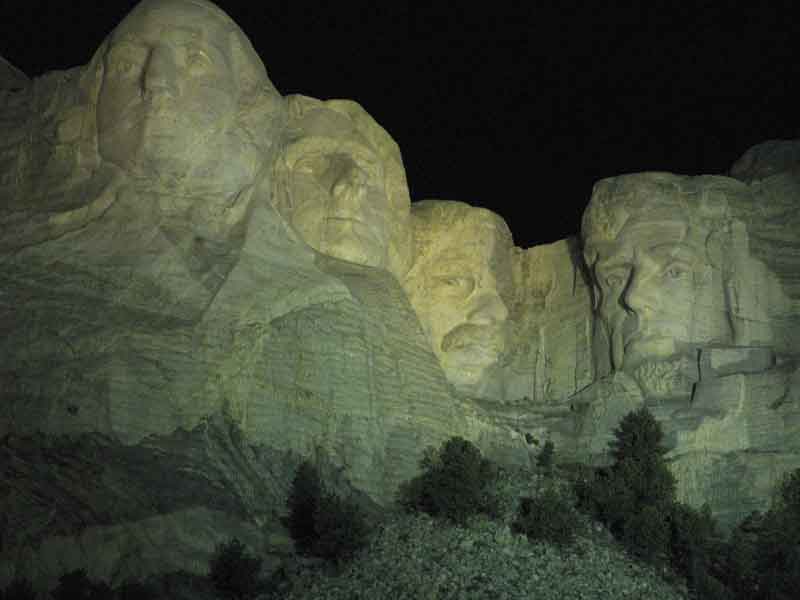 Left: Main entrance at Mt. Rushmore with flags from all the U.S. States.
Right: Mt. Rushmore after the nightly lighting ceremony.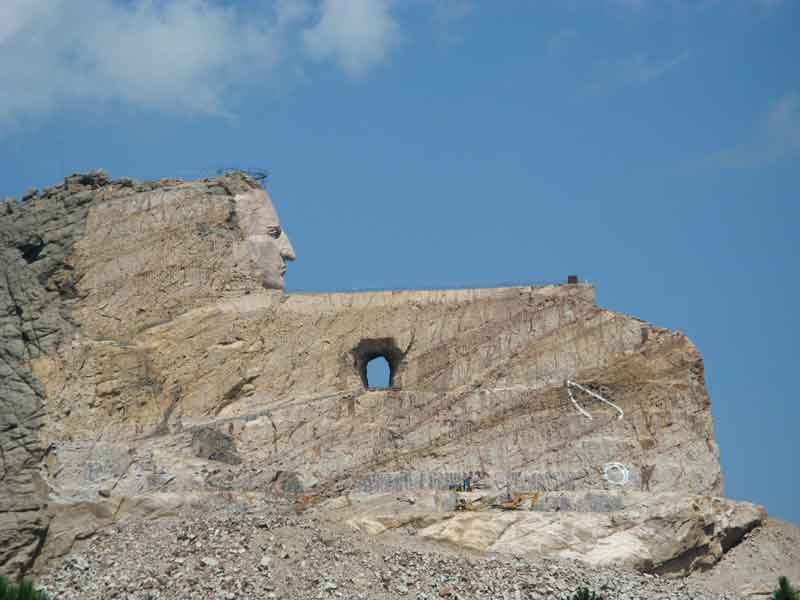 CRAZY HORSE
Crazy Horse is the indian version of Mt. Rushmore. One of the sculptors that worked for Borglum, Korczak Ziolkowski, was asked by Lakota Chief Henry Standing Bear to create at monument by carving Crazy Horse into one of the local granite mountains. He accepted and they officially started Crazy Horse Memorial June 3, 1948. The Memorial's mission is to honor the culture, tradition and living heritage of North American Indians.
Currently only the face of Crazy Horse is completed as Korczak died in 1982 and his wife and family have been doing the sculpting since.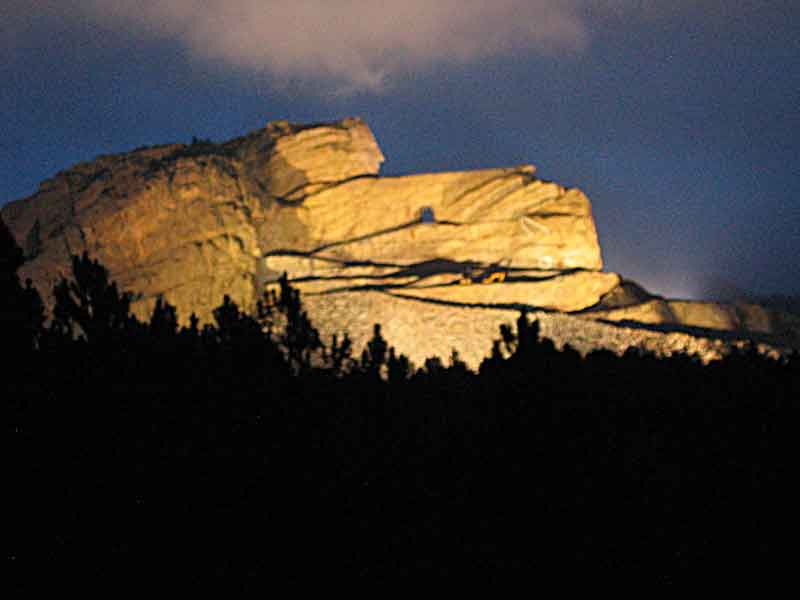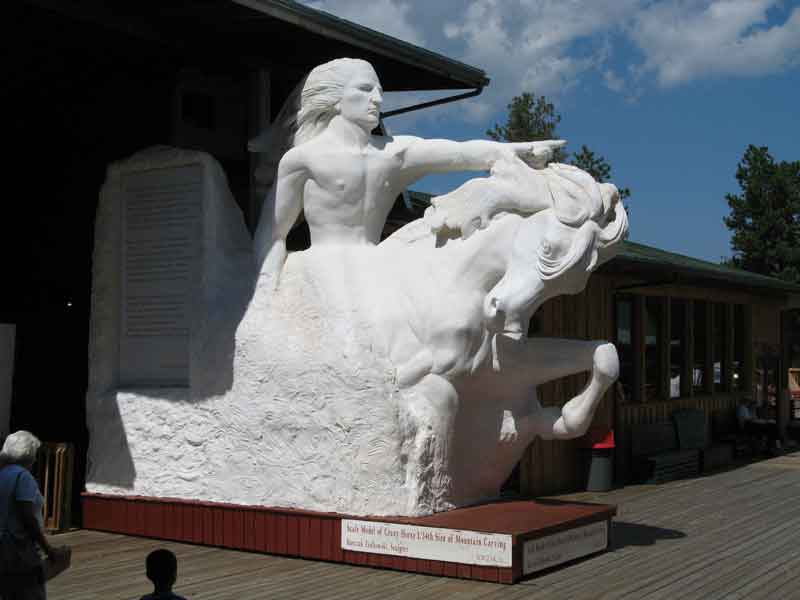 Left: Crazy Horse mountain during the nightly light show.
Right: Model showing how the final sculpture will look.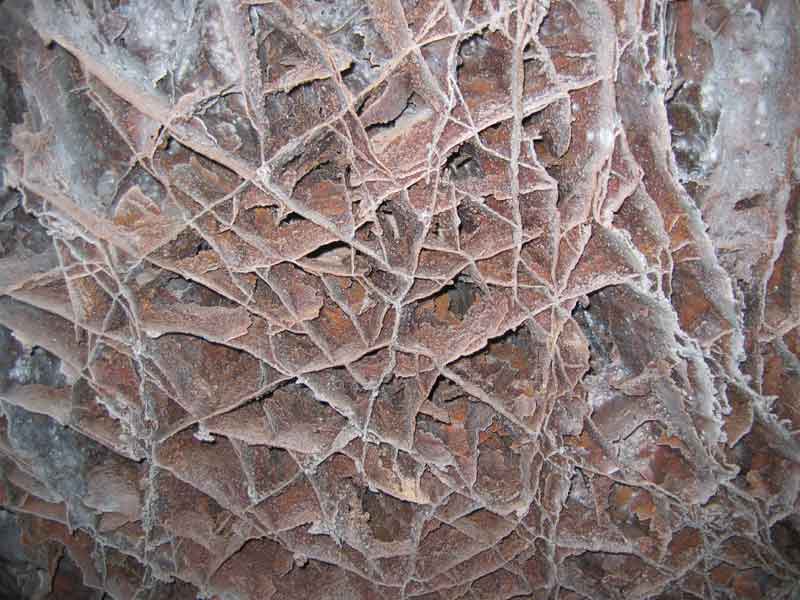 WIND AND JEWEL CAVES
There are many caves throughout the Black Hills and Wind and Jewel caves are the biggest and most popular to visit. They are both very long, with Jewel being the second longest in the world and will probably be the longest when it is explored more.
Wind Cave is a dry cave and has lots of spectacular boxwork, as shown on the picture to the right. Jewel has both a wet and dry section, the wet section is shown below.
We took several tours in the caves and there are lots of steps to climb up and down. The most difficult was the lantern tour in Jewel Cave. On this tour you have to carry an oil lantern and climb wooden stairs that are often very steep and narrow, all the time carrying your lantern which is the only light in this part of the cave. It was strenuous but a super adventure. The main tours are much less work and are in areas of the caves that have concrete paths and lights.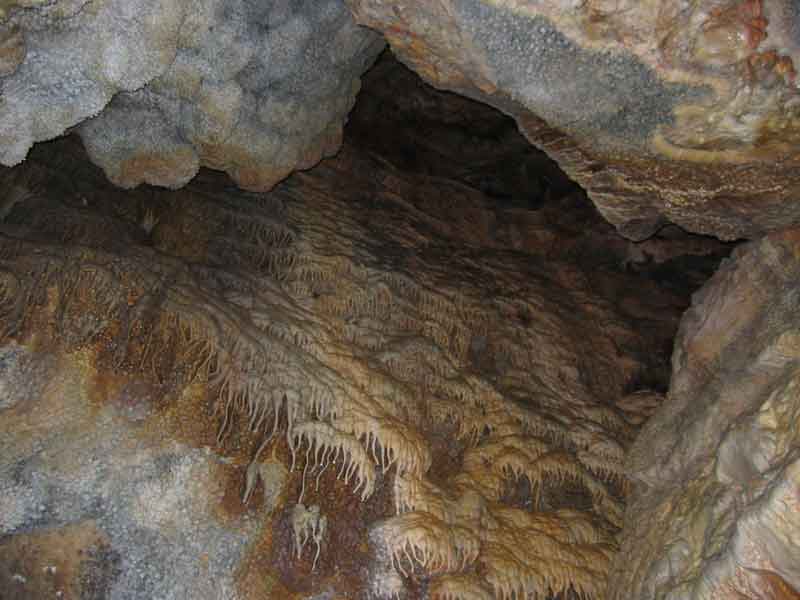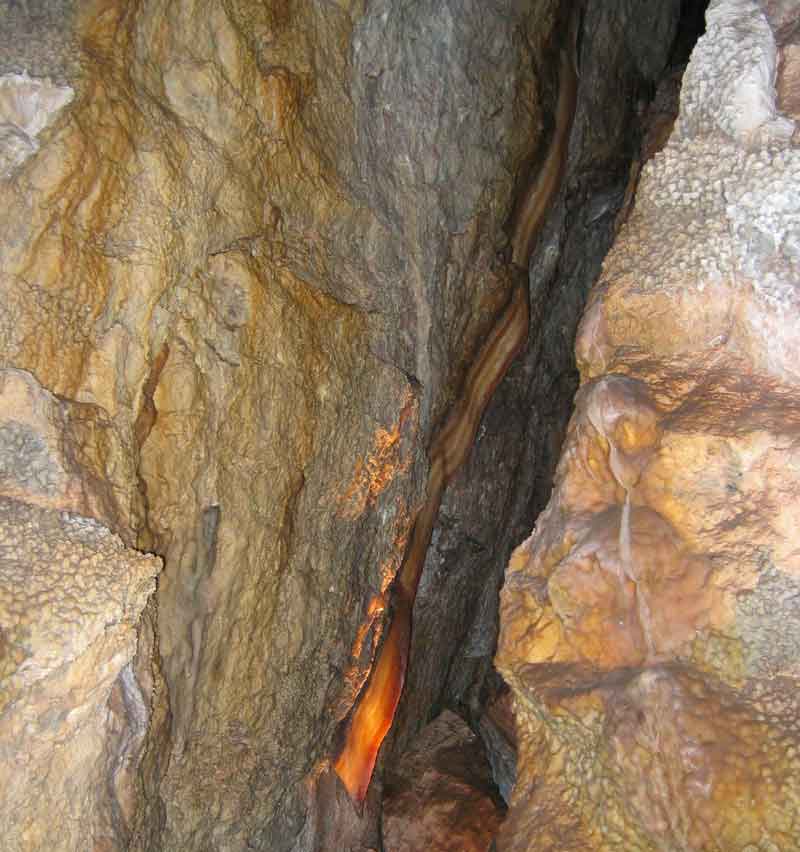 Left: Flow stone in Jewel Cave. I think that is what this is called.
Right: A strip of bacon in wet section of Jewel Cave.