THE ALASKA HIGHWAY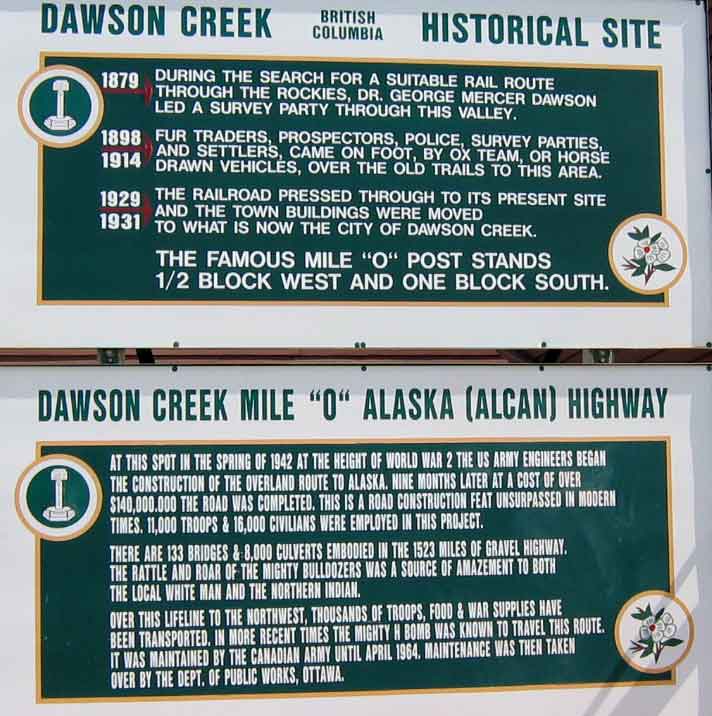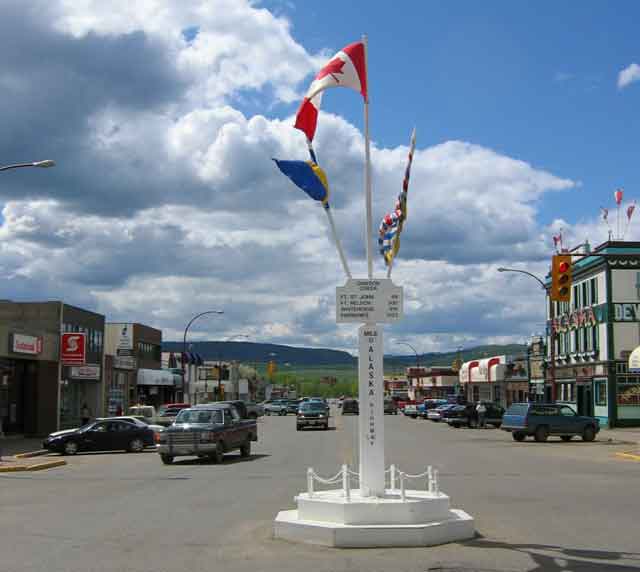 LEAVING DAWSON CREEK



Its the first of June and we are leaving Dawson Creek and heading up the ALCAN. It will take us three days to get to Whitehorse, with overnights at Ft. Nelson and Watson Lake.

Contrary to its reputation, the Alaska Highway is not mostly gravel road and pot holes. Today's ALCAN is paved all the way and the only problem is the spacing of services along the way. There are long stretches without any habitation, so you need to plan ahead for fuel and other needs. Of course, traveling in a motorhome that has enough fuel to go 800+ miles and all the other facilities built in, sure helps.




ALONG THE WAY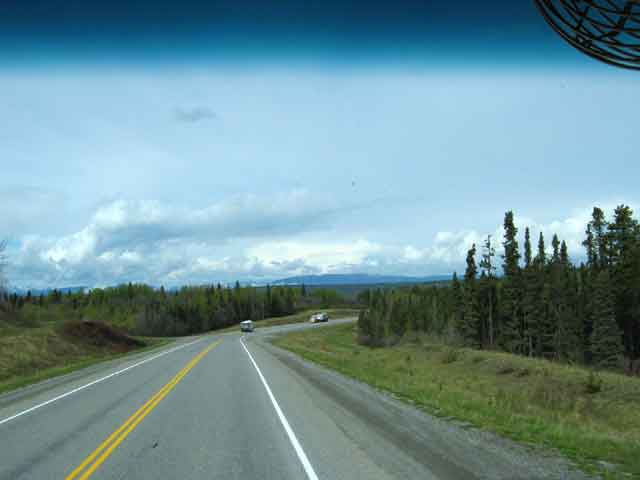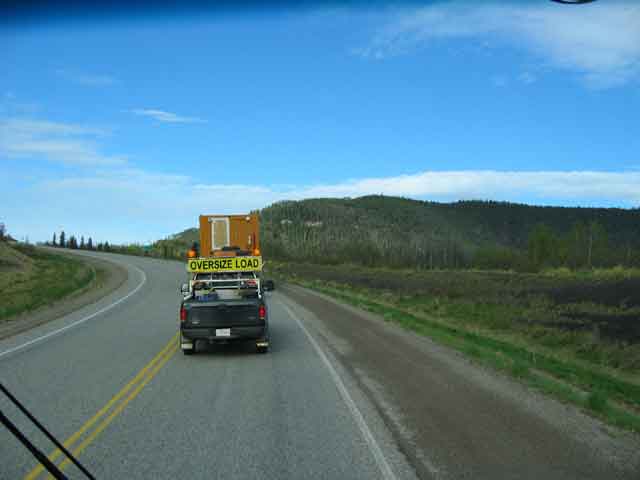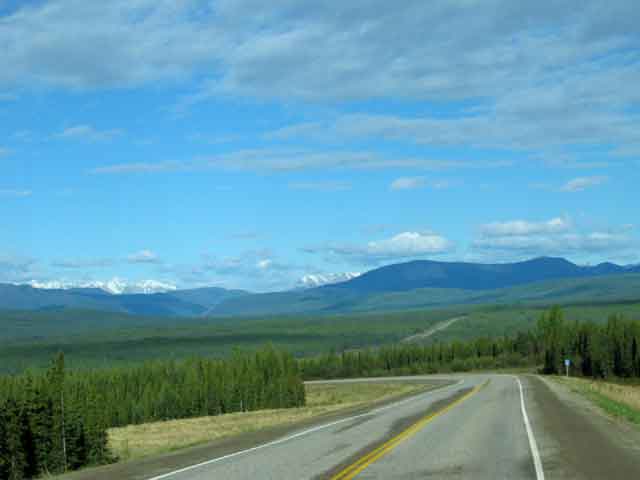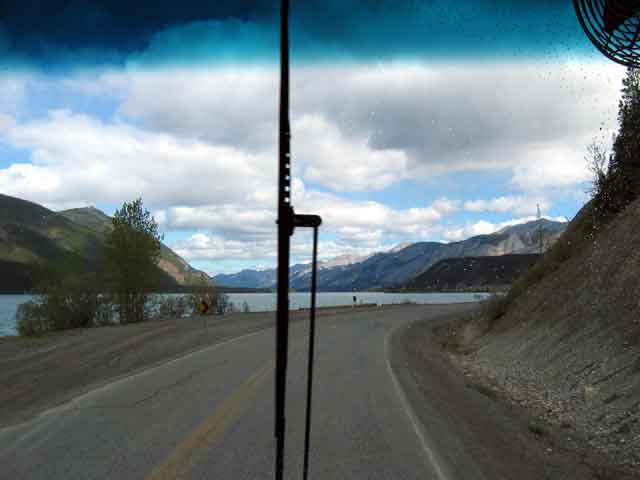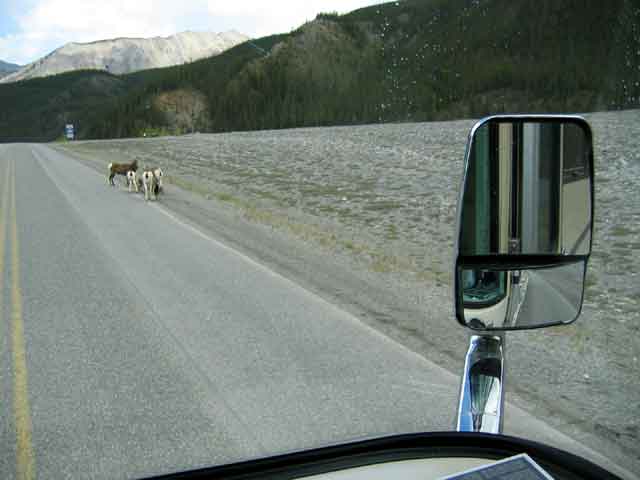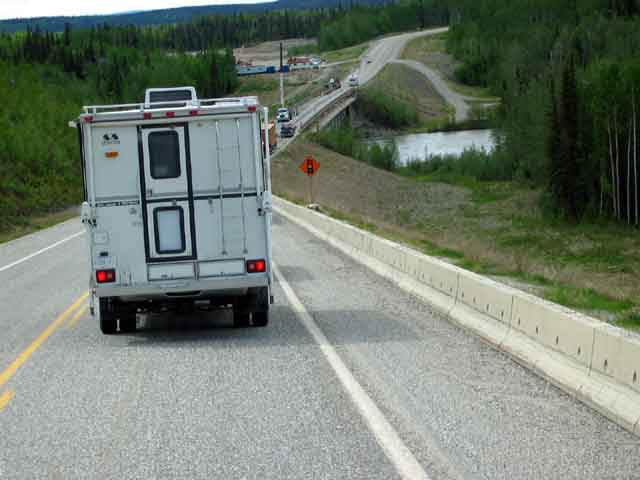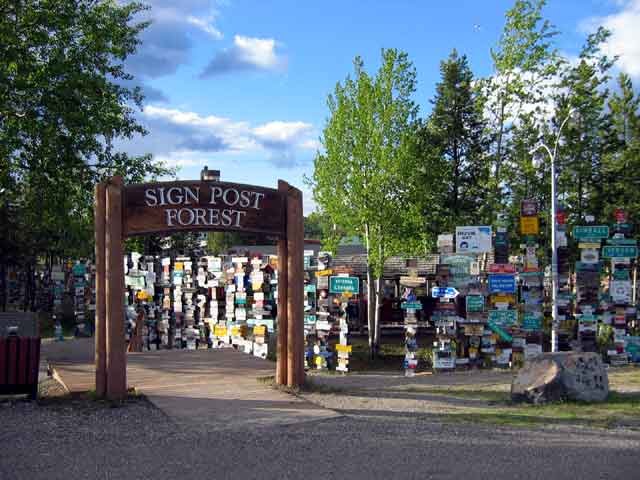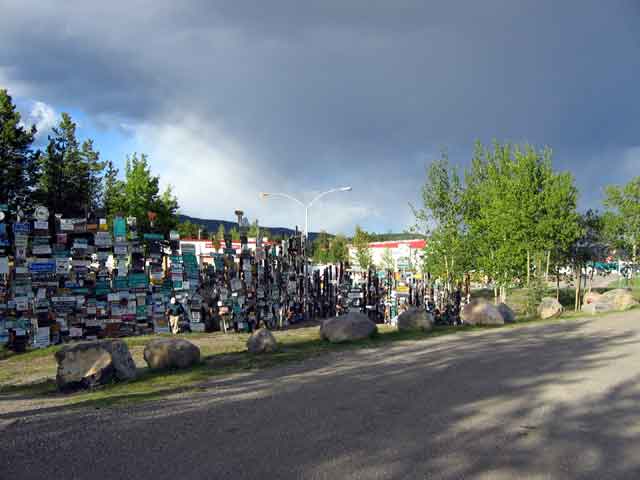 The ALCAN is completely paved, but ... Each year they work on stretches to repair the paving and even construct new sections to improve the routing. This construction stop was memorable because of the truck camper in front of us with a hand drawn license plate from Kentucky. We assume it was put there because you can't see the real one on the truck.
The Sign Post Forest at Watson Lake is known and copied around the world. It was started in 1942 by a G.I. working on the Alaska Highway. He erected a sign here that pointed the way to his home town. Others followed his lead and are still doing so today. New poles are erected as needed. In July, 1990, the 10,000th sign was added.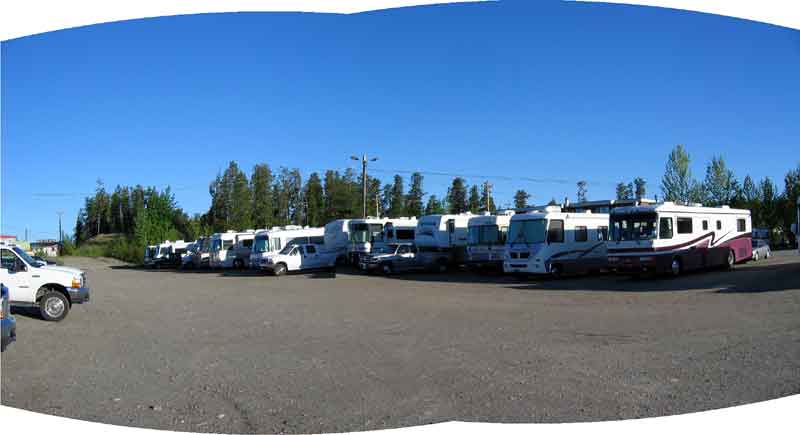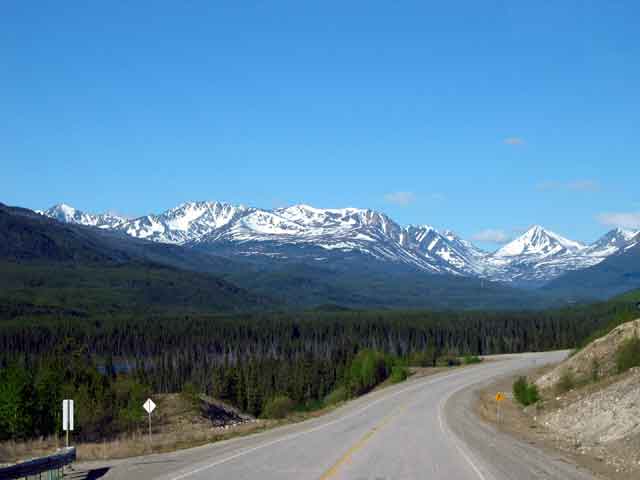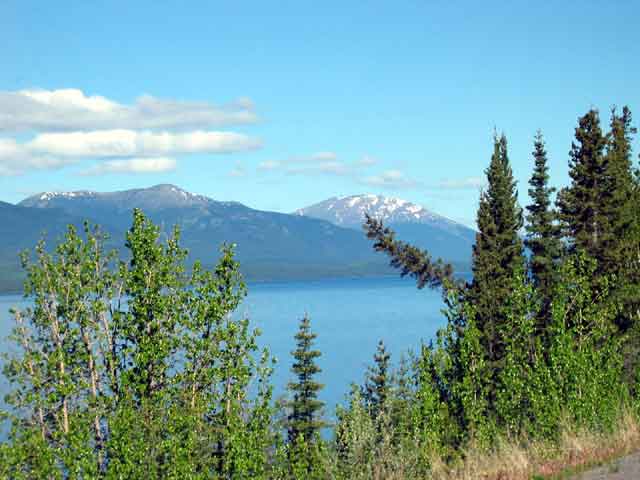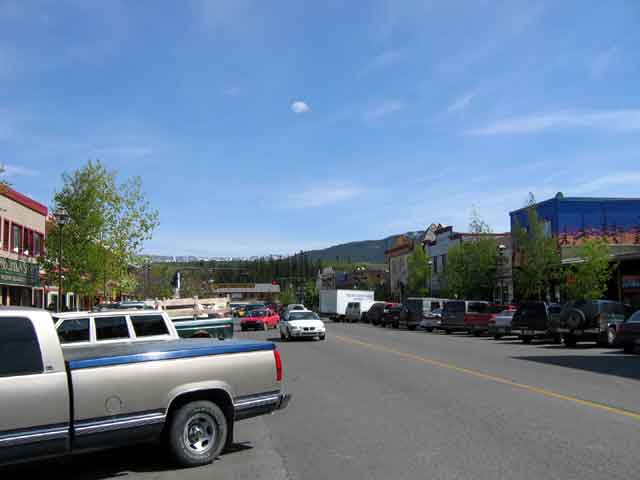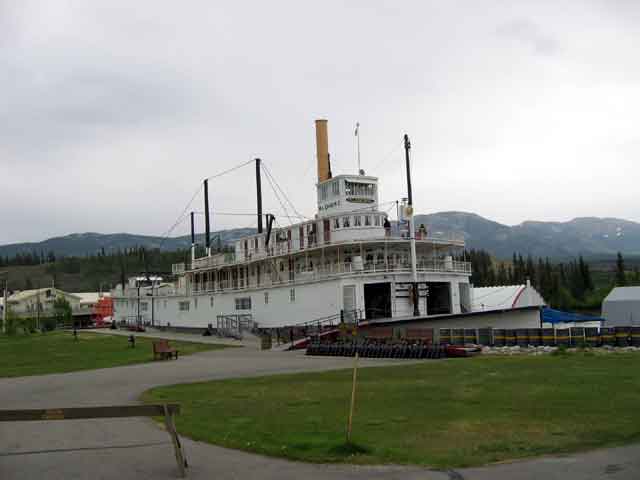 WHITEHORSE



Whitehorse is the capital of the Yukon and is situated on the banks of the Yukon River. It is named after the rapids, just upstream, that resembled the flowing manes of white horses. The White Horse rapids were the worst obstacle that the gold rush "Stampeders" had to face on the "Trail of 98". These rapids have been replaced by the Schwatka Lake reservoir, created in 1958 when the hydro-electric dam was built.

Whitehorse is a busy town, with a population of over 22,000. That is a large portion of the 30,000 population of the entire Yukon, eh? Whitehorse was incorporated in 1950, and in 1953, took over as the capital of the Yukon. Dawson City was the previous capital.

The S.S. Klondike is a retired river boat that is now a museum with guided tours. A fun thing to do.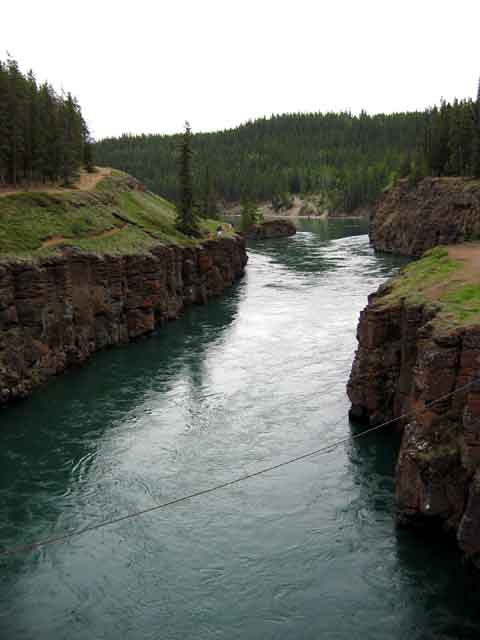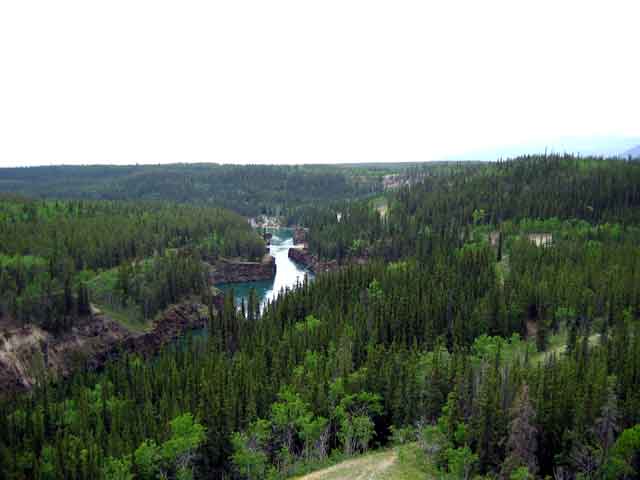 MILES CANYON



Miles Canyon is a very narrow, straight walled, gorge that contained the White Horse rapids. The canyon was about forty feet deeper in 1898 when the stampeders were trying to run these rapids. Today, because of the lake, it is a slow moving river that is a beautiful dark green color.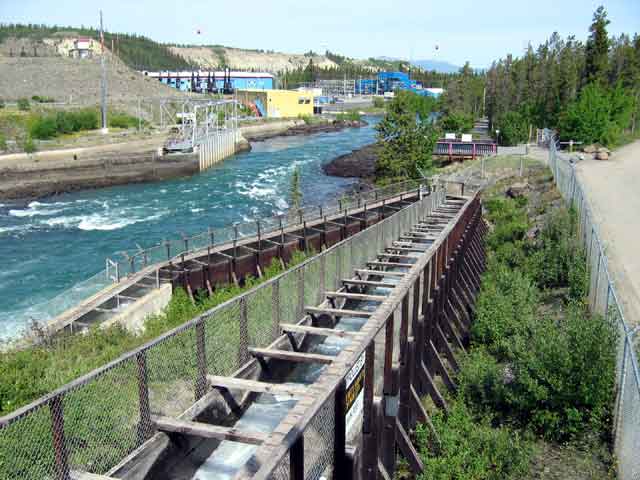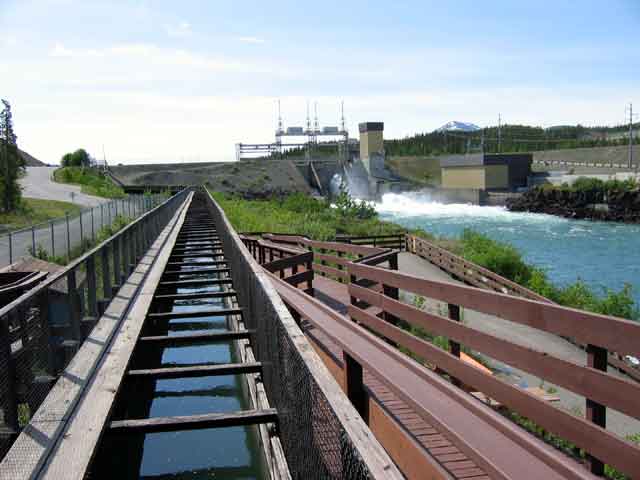 FISH LADDER



This fish ladder was constructed to allow salmon and other fish to move upstream around the dam. It is made of wood and is believed to be the world's longest of that type if material. There is a section where the sides are made of clear plastic so you can watch the fish as they make their way up the ladder. This is also used to count the salmon during their spawning migration.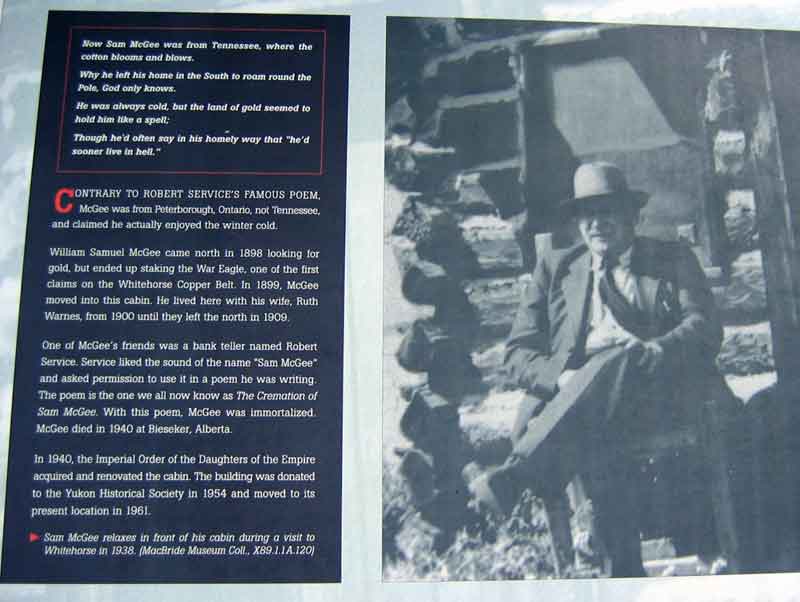 SAM McGEE



Sam McGee's cabin is at the McBride Museum in Whitehorse. The museum has an excellent display of early Whitehorse and its relation to the gold rush. It also has a very well done display of stuffed animals of the Yukon.